Energy firm blames move on government decision to remove renewables from exemption to Climate Change Levy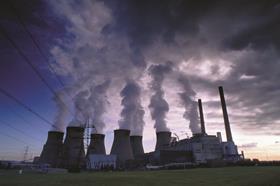 Energy company Drax has pulled out of plans to build a £1bn carbon capture and storage facility next to its coal-fired power plant in North Yorkshire.
The firm has withdrawn its investment from Capture Power - the joint venture between Drax, Alstom and BOC behind the scheme - and blamed government cuts to green subsidies, claiming these made the scheme unaffordable.
The remaining Capture Power partners say they will continue to work to deliver the project without Drax's investment.
The project - dubbed 'White Rose' - would deliver the world's first commercial scale carbon capture and storage (CCS) coal-fired plant.
The scheme plans to capture up to 90% of the carbon emissions from Drax's Yorkshire coal plant and store it in a facility beneath the North Sea.
Drax said its move was prompted by the government's decision to extend the Climate Change Levy (CCL) to renewable energy initiatives, including CCS.
CCS is the process of capturing carbon emissions from sources such as power plants which use fossil fuels and storing it in a place where it won't enter the atmosphere, usually underground.
Drax said it will continue with its feasibility study into the scheme, which is due to finish in the next six to 12 months, and will also make the site available for someone else to build the facility.
Pete Emery, group operations director at Drax and board director at Capture Power, blamed a "drastically different finance and regulatory environment" as the reason for the firm pulling out of the scheme.
He said: "We are confident the technology we have developed has real potential, but have reluctantly taken a decision not to invest any further in the development of this project.
"The decision is based purely on a drastically different financial and regulatory environment and we must put the interests of the business and our shareholders first."