UK chief executive has said one-fifth of its new work is for combined engineering and consultancy services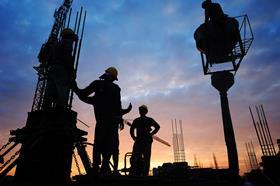 The UK chief executive of Arcadis has said one-fifth of its new work is for combined engineering and consultancy services previously offered separately by former subsidiaries EC Harris and Hyder.
Alan Brookes said Arcadis UK, largely made up of staff from the EC Harris and Hyder acquisitions, was now operating under "one leadership team, with one integrated budget and one integrated team".
Brookes was speaking after the announcement that Arcadis has from this week dropped the historic EC Harris and Hyder names as part of a global rebranding exercise that will see virtually all of the businesses owned by the 28,000-strong consultant and engineer consolidate under the Arcadis name.
Cost consultant and project manager EC Harris merged with Arcadis in 2011, while engineer Hyder was taken over by the Dutch business in 2014.
Brookes said the rebrand was a result of the firm deciding it wanted to go to market globally as one brand, with the firm increasingly winning work by offering a mix of services from different brands within the business. "A fifth of the work won is now joined up, and I think we'll see growing demand for this," he said.
Brookes said that work won by Arcadis through combining Hyder and EC Harris services included work on Crossrail 2 and the £1bn M4 corridor project. Arcadis is currently consolidating Hyder and EC Harris offices in the UK so that no more than one office exists in any single town or city, with Brookes saying the number of offices would reduce from 55-60 to between 25-30.
The only Arcadis brands to escape the consolidation will be the two architectural firms owned by the group, Callison and RTKL, which will be brought together to create CallisonRTKL, reflecting the different dynamic in the market for architectural services.
Brookes said the decision was the response to an increasingly globalised market, and insisted the firm wasn't throwing away its heritage. "Even our local clients are asking for us to bring global know-how to their jobs," he said. "This just demonstrates that. We're not throwing away our heritage, we're building on it to offer our customers something greater."