Mark Cowlard joins from rival Atkins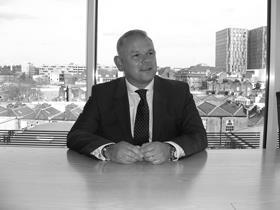 EC Harris has recruited a new rail boss from rival Atkins.
Mark Cowlard has been appointed as a partner and new head of its rail sector team.
He was previously managing director of its rail solutions business.
Cowlard will be responsible for growing EC Harris' revenue in the rail sector, focusing on the UK, Asia nd Middle East.
His appointment follows the appointment of former chairman and chief executive of the Strategic Rail Authority Richard Bowker as senior advisor in the rail sector earlier this year.
Mat Riley, head of infrastructure, industry & utilities at EC Harris said: "Mark has an excellent reputation and track record within the rail industry, and we are very pleased to welcome him to EC Harris.
"He will be a huge asset to us as we help our clients to deliver the many critical, yet complex, rail projects that are currently in the pipeline."
Mark Cowlard said: "I am delighted and excited to be joining EC Harris at a time where levels of global rail investment are reaching unprecedented levels.
"Our current and future customers face new and significant challenges in achieving their development goals which EC Harris, with their wide portfolio of current and developing propositions, are very well placed to address."