Getting hold of labour and materials continues to blunt growth, bellwether forecast says
Labour shortages, a lack of HGV drivers and ongoing problems getting hold of materials continued to put the brakes on sector output last month with economists expecting more of the same in October.
The latest PMI data drawn up by IHS Markit and CIPS said total activity for September stood at 52.6 down from the score of 55.2 the month before and a fall of nearly 14 points from the 66.3 figure recorded in June, a 24 year high which is increasingly looking like an anomaly.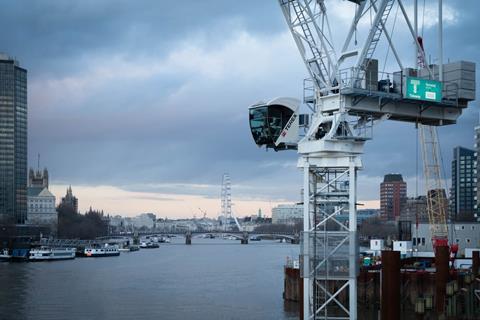 It was the sixteenth consecutive month the index has remained above the 50 mark, showing expansion, but the rise was the smallest since the beginning of the year when the country was in the grip of a third national lockdown.
Tim Moore, director at IHS Markit, which puts the survey together, said the numbers should begin to worry firms. He added: "September data highlighted a severe loss of momentum for the construction sector. The volatile price and supply environment has started to hinder new business intakes as construction companies revised cost projections and some clients delayed decisions on contract awards."
And Jan Crosby, head of infrastructure, building and construction at KPMG UK, admitted: "Another month of slow growth is to be expected given the circumstances."
Getting hold of subcontractors to carry out work saw the steepest rise in the amount they charged since the survey began in April 1997, the report added.
The director of Lloyds Bank's infrastructure and construction team, Max Jones, said: "For now contractors are papering over the cracks by paying more to bring in and retain skilled workers to ensure projects remain on track but the worry is that this could create a long-term wage inflationary issue for the industry."
The ongoing rising cost of labour and materials also prompted a warning from Scape chief executive Mark Robinson to clients that they must pay their bills on time.
"Developers, public and private, will need to encourage open dialogue and prompt payment practices to support the health of our supply chains."
All three sectors covered by the survey saw output slide in the month with the biggest drop coming in civil engineering which slumped to 51 from 54.8 in August while housing, for so long the engine room of growth, slipped to 52.8 – the weakest expansion since June last year when the industry was emerging from the first lockdown.
That meant the commercial sector, which for much of this year has lagged behind the other two in terms of strength of recovery, as the best performing category with a score of 53.6.