Firm still battling to complete two schemes in Derby and south Wales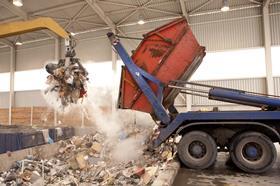 Interserve's clients on two unfinished Energy from Waste jobs have said the firm's collapse into administration earlier this month has added more uncertainty to the schemes.
Interserve went into a prepack administration after losing close to £230m on EfW jobs since 2016, with the group's businesses transferring to a private company, Interserve Group Limited, owned by its creditors minutes later.
The company has told staff and customers it continues to operate as normal but it is yet to make an official announcement under its new ownership except to confirm the change.
Now the clients on the contractor's final two EfW projects have said Interserve's administration has added more uncertainty to the schemes.
Interserve is still working to hand over the two unfinished EfW jobs it is developing through JVs - a complex in Margam with Babcock and Wilcox and a plant in Derby with joint venture partner, waste management firm Renewi.
A spokesperson for Glennmont Partners, an asset manager and client on the Margam job, said: "It is not 100% clear that [Interserve's administration] shall have any impact on Margam, however contingency arrangements are in place to address the foreseeable outcomes."
He confirmed Glennmont still expects the project, originally due in 2017, to finish by July this year but said the firm would "be using the mechanisms available to it, including within the [lump sum contract], to seek recompense for the delay to its completion".
In Derby, Interserve and Renewi have been commissioning the incinerator since January last year but the joint clients recently threatened to terminate the contract if it was not finished soon.
A spokesperson for Derby City Council and Derbyshire County Council said: "Interserve entering administration is clearly a concern but not unexpected as we had been monitoring the company's financial situation for some time.
"It's too early to say what this will mean but both councils remain committed to moving it to full operation and we'll be monitoring the situation closely over the coming weeks."
A spokesperson for Renewi said: "Intensive discussions have been underway for a number of months between the stakeholders as to how best to commission the Derby and Derbyshire Waste Treatment Centre under a range of scenarios."
Interserve has been contacted for comment.