Allies & Morrison has designed Elephant & Castle shopping centre redevelopment for Delancey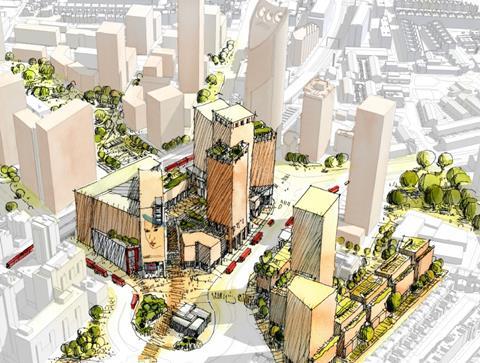 Proposals by Allies & Morrison for a new town centre at Elephant and Castle in south London are on public display in the area's famous shopping centre.
The centre will be turned into a new home for thousands of students with the plans revolving around a partnership with the University of the Arts London to create a new centre for university services and a new campus for 4,500 students at its London College of Communication.
It will also include around 1,000 new homes to rent and new public spaces while 30,000sq m of shops and restaurants are planned. The client on the scheme is Jamie Ritblat's property company Delancey with the public exhibition running until Saturday.
The Elephant & Castle is being redeveloped by Lend Lease under a £3bn makeover. Architects working on the scheme include AHMM, dRMM and Squire & Partners.
Work on the Allies & Morrison scheme is expected to start in 2017.
Source
This story first appeared on Building Design