Former boss credited with turning firm into major contracting force
Steve Pycroft is stepping down from Mace and away from construction this Christmas, bringing to an end an association with a firm that stretches back almost 30 years.
The 63-year-old is widely credited with turning Mace from a boutique contractor into a major construction force when he signed the deal with Sellar to build the Shard for a fixed-price contract of £500m nearly 15 years ago.
Pycroft, who joined Mace in 1993 from Bovis, will stay on as a director and remains the firm's second largest shareholder with a 17% stake after chief executive Mark Reynolds, who owns more than 30% of the business.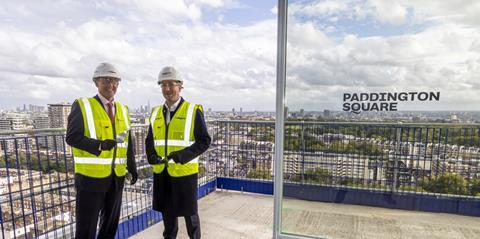 Paying tribute, Reynolds, who will now also become chairman, said: "There can be few people in our industry who can claim to have had such a huge impact on how we operate as Stephen. His commitment to our company and to developing exceptional talent has always shone through and many of the senior leadership at Mace would not be here without him."
Pycroft has been working two days a week at Mace since the start of the year with his full-time involvement first tapering off last January following a rejig of the business.
But his remaining day-to-day involvement will end in a few weeks' time with Pycroft moving back to his native Yorkshire next January from his current home in Buckinghamshire.
Pycroft, who will continue to attend the firm's quarterly board meetings, told Building he had first thought about stepping away two years ago with the pandemic and accompanying lockdowns accelerating his decision.
"No one is irreplaceable," he said. "The ways of working have changed [because of covid] from a relationships side, a social side which I enjoy, to running the business on Teams. The world is changing and maybe I'm a bit of dinosaur. I'm not enjoying it as much as I used to. It's best to leave when people are asking you 'why?' and not 'when?'."
He was hospitalised with covid-19 last spring and spent four weeks in an induced coma with doctors later telling him it was touch and go whether he would survive.
But he brushed off his near-death experience, which saw him lose three stone, saying: "You're woken up for five minutes, every day. They asked me my name and age before you're put to sleep again. That's all I can remember. But there was never a time I thought I was going to die."
His recovery took around four months and he returned to Mace's office at 155 Moorgate at the start of the year.
Pycroft said he has no plans to become a non-executive at other firms because "that doesn't interest me", adding: "I'll go to four board meetings a year, maybe work with some of Mace's clients, if I'm asked to, but for the next chapter of my life there won't be much of Mace in that."
He said he would miss construction and admitted: "You can't not miss it, the friends you have made – my whole life has revolved around Mace." Asked if he would ever consider joining a rival Tier 1 firm, even in an advisory capacity, he said he wouldn't. "I'm Mace through and through. I've put too much into Mace."
After eight years in the role, he stood down as chief executive at the end of 2012 having led a management buy-out of the business in 2001. Once he handed over to Reynolds, he became executive chairman later becoming group chairman.