Latest index for construction buyers shows output also expanded last month when second lockdown kicked in
The volume of new orders increased at the sharpest rate in more than six years, according to the latest CIPS/IHS Markit report.
November's orders rose at the fastest speed since October 2014, with respondents putting the surge down to increased tender opportunities and improving confidence among clients.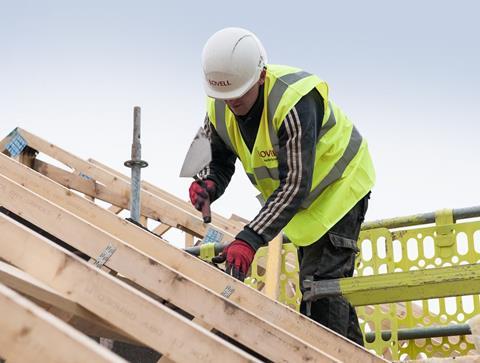 The total activity index increased to 54.7 last month, with construction told to carry on working despite the introduction of second lockdown which ended this week, from a score of 53.1 in October.
The index has registered above the 50.0 no-change mark in each month since June – meaning output has grown for the past six months.
But last month's growth was down on the 58.1 recorded in July – although this number came in the first few weeks after the first lockdown ended and a recovering housebuilding sector, buoyed by pent-up demand, was fuelling the return to growth.
Tim Moore, economics director at IHS Markit, said: "The latest increase in new orders was the strongest since late-2014, with construction firms reporting a boost from rising client confidence and the release of budgets that had been held back earlier in the pandemic."
All three broad categories of activity saw higher output in November, with firms indicating that housebuilding remained the best-performing area, posting a score of 59.2, despite the rate of growth easing since October.
Civil engineering returned to growth in November, sitting at 52.3, while commercial work increased only marginally, 51.9 and at the slowest rate for six months.
But Scape chief executive Mark Robinson warned: "There remain a number of emergent but potentially significant dilemmas for the industry to contend with in the coming months despite these latest figures.
"We're already beginning to see the impact of Brexit on the availability of materials, as well as the shortage of labour driving up costs as skilled workers become increasingly willing to travel further across the UK, particularly to London and the South-east, in pursuit of higher wages."
Rising demand for construction products and materials led to another sharp lengthening of lead-times last month with respondents pointing towards transport delays and stock shortages.
Employment remained a weak spot but the latest fall in staffing numbers was the slowest since February. And despite rising business activity and incoming new work, some firms reported ongoing job cuts amid efforts to reduce overheads.
The finance director of regional contractor Beard, Fraser Johns, added: "While this is all cause for optimism, we also need to recognise that there is continued pressure on supply chains currently. That is going to be brought into sharp focus come 1 January if the Brexit talks currently ongoing are not resolved with an agreement of some sort."
Earlier this week, Mace chief executive Mark Reynolds warned that the biggest headache set to be caused by Brexit remained getting materials to sites from Europe, adding that contractors might have to freight product through different routes in order to avoid them being clogged up at ports in the south of England.