TfL commissioner Mike Brown says railway must continue on to Euston to secure benefits for the capital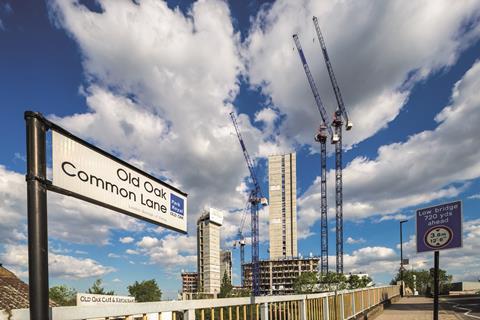 The man in charge of Transport for London has warned the government that ending the HS2 line at Old Oak Common in west London would be the "Ryanair option".
Rocketing costs on the controversial railway scheme may prompt the government to halt the line eight miles west of its intended terminus at Euston – or abandon the scheme altogether.
Speaking to Building at last week's London Infrastructure Summit, TfL commissioner Mike Brown said HS2's role in bringing travellers from around the country into the heart of the capital would be lost if the line finished at Old Oak Common.
"We shouldn't forget the benefits to London of HS2," he said. "And there has already been a lot of disruption to residents in Camden [which the HS2 route in and out of Euston runs through]."
Referencing Ryanair's reputation for flying to airports some distance away from destination cities, he added: "The worst outcome for me for HS2 [is a] truncated Ryanair option of having it terminating at Old Oak Common. When I last checked, Old Oak Common isn't in the centre of London. It's a really important point of principal.
"In my judgment, if it stops at Old Oak Common, it will never go to Euston in my lifetime."
Earlier this month, HS2's Euston programme director Rob Carr told Building that ending the line at Old Oak Common rather than Euston would add years to the schedule and cause a potential multibillion-pound hit to the scheme's overall business case.
Terminating the line at Old Oak Common is one of the options being considered in a review of a project being led by Doug Oakervee.
But Carr said Old Oak Common station would have to be completely re-designed, a process which would set the scheme back a further two years.
"Even if you could build the redesigned station, imagine 18 trains each with 1,000 people getting off and getting on the Crossrail trains, which haven't been designed for that. It would be madness."
London's deputy mayor for transport Heidi Alexander also told the same summit that HS2 had to run into central London.
"There is no point in shaving off minutes from a journey between the North-west and the capital only for it to run into the buffers when it gets to Old Oak Common," she warned.
This week transport secretary Grant Shapps said work to clear ancient woodland for HS2 should be stopped while Oakervee's review was under way.
On Tuesday, HS2 confirmed that a Balfour Beatty and Vinci team has signed the £1bn contract to build the new station at the Old Oak site, after a formal contract award had been held up by a legal challenge from losing bidder Bechtel.