Philip Dilley echoes comments of EA deputy chief executive and calls for "complete rethink" on flood resilience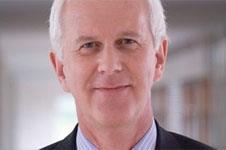 More focus needs to be placed on making homes in flood plains resilient to flooding, the head of the Environment Agency and industry figures have said.
Speaking to Building, Environment Agency chairman Philip Dilley (pictured) echoed the comments of his deputy chief executive David Rooke, who called for a "complete rethink" in flood resilience with more focus on making homes more resilient.
Dilley said: "As the deputy chief executive said, another part of the answer is making sure homes are more resilient, as you have to accept there is going to be flooding."
Peter Caplehorn, deputy chief executive and policy director at the Construction Products Association, said a "flood resilience SAP standard" could be needed to make homes more resilient. SAP is the name for the assessment method used to determine the performance of new homes.
Alastair Chisholm, policy manager at the Chartered Institute of Water and Environmental Management, said new developments on flood plains should focus on making homes more resilient.
He said: "Housing pressures mean flood plains are often attractive for development.
"You need to make sure it's done in a way which is resilient, building homes a level up so they are above water, or moving sockets to mid level height for example."