Agency ordered to pay £220,000 after crane drags worker into icy water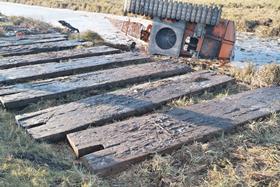 The Environment Agency has been ordered to pay more than £220,000 in fines and costs after a series of errors caused one of its employees to drown while dredging an icy Cambridgeshire watercourse.
Simon Wenn, 43, died on 8 December 2010 after safety failures led to the crane he was operating slipping into the icy watercourse, trapping him in the cab.
Emergency services were called and tried to free him, but despite their best efforts both he and the machine continued to sink into the water.
Cambridgeshire Crown Court fined the Environment Agency £200,000 with costs of £28,548, after the agency admitted breaching the Health and Safety at Work Act.
A Health and Safety Executive (HSE) investigation found the crane Wenn was operating had been fitted with a 19 metre boom that exceeded the manufacturer specifications.
The HSE also established the Environment Agency had made an inadequate assessment of the technical requirements at the Mepal site, and of the impact of the cold weather.
The system of work for lifting and positioning the tracking mats was unsafe, and there was a lack of planning and competent site supervision.
The court was told that although Wenn was trained as a dragline operator, he had no prior experience of using a crawler crane for lifting operations, so when he attempted to move the mats, he dragged them through the water rather than lifting them clear.
HSE inspector Stephen Faulkner said: "Simon Wenn's tragic death could have been prevented had more thought and rigour been given to planning the dredging work, in order to minimise the risk arising from the use of the dragline to maintain this watercourse.
"The Environment Agency failed to heed warnings and learn lessons from a previous non-fatal, incident where there were similar failures to manage risk.
"Our investigations of incidents are not just there to assign responsibility. They are an important source of information to help develop effective policies and procedures to ensure the health and safety of workers. Employers should act upon the findings of such investigations and implement procedures to reduce risks.
"HSE will always consider prosecution where there has been a fatal accident in the workplace."