Concern grows over protection programme after new flood defences over-topped in Cumbria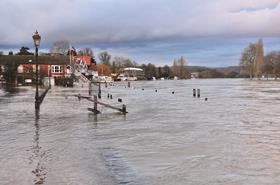 The secretary of state for environment, food and rural affairs Elizabeth Truss has admitted the government will have lessons to learn from storm Desmond.
Her statement came after criticism over multi-million pound flood defences - built following the floods in 2009 - failed to protect homes in Cumbria from the impact of the storm.
Speaking in the House of Commons Truss said the government will now "need to learn lessons and reflect on what we can learn from this extreme weather event" despite having spent £45m in new flood defences for Cumbria since 2009.
A major incident was declared in the UK following a weekend that saw storm Desmond deposit approximately 340mm of rain in 24 hours on the Lake District, flood over 2,000 homes in Cumbria and cause a loss of power to 55,000 homes in Lancaster.
Lib Dem leader Tim Farron, whose home and constituency Westmorland and Lonsdale was affected by the flooding, said the situation was made worse as around 300 "lower priority [flood defence] schemes were shelved and should have been funded".
"The question we now need to ask ourselves is whether it was right to cancel some of the funding for flood defence schemes over the last few years."
"There is now a major task ahead of us in terms of repairing the damage caused by these floods, and I am calling on the government to support us in this and make additional funds available," he added.
In the recent Spending Review George Osborne promised £2.3bn of investment in flood defence projects to protect 300,000 homes by 2021 and protected flood maintenance funding. Yet, Defra the department which overseas flood defence construction saw its budget cut by 21% for the 2011-2015 period compared to the spending period of 2008-2010.
However, in March this year as part of the pre-election budget Osborne brought forward additional funding totalling £57.8m for flood defence schemes after being criticised by a cross-party report which found a £600m black hole in the government's £2.3bn flood investment programme.
The schemes brought forward were predominantly in the South and East of the country with 50 flood schemes in the South East alone.
As part of the 2013 Spending Review, the government announced a six-year capital settlement to improve flood and coastal erosion management infrastructure between 2016-2021. The government committed £2.3bn of funding for flood defences, but the funding relied on £600m of "external contributions" to go ahead.
"There is an obvious pressure on the Government to prioritise its spending, but making cuts to flood defence in the short term will only create a long term problem that could turn out to be far more costly if we experience another season of flooding," Farron said.
Meanwhile Communities Secretary Greg Clark has announced the opening of the Bellwin scheme to enable for councils involved in the clean up operations following to claim 100% of their costs above threshold reimbursed.