Approval comes despite Historic England concerns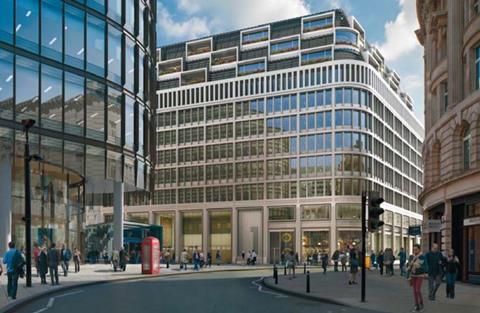 Eric Parry Architects has received planning permission for a 24,000m2 office development above the Liverpool Street Crossrail station.
The practice's One Liverpool Street scheme, which will occupy a corner site immediately south of the Broadgate Centre, has been approved by the City of London.
The 10-storey block will replace a six-storey office building on Liverpool Street and include a seven-storey ventilation shaft for Crossrail and an emergency exit for the new rail line on its Blomfield Street section.
It will have three ground-floor retail units and two basement levels and will increase office floorspace on the site by 13,000 sq m. The subterranean levels will not extend to the southernmost portion of the building because of the rail lines below.
Government heritage adviser Historic England criticised the "scale and bulk" of Parry's scheme, which it said would appear "domineering" in views from Bishopsgate to the east, and harm the significance of the Bishopsgate conservation area.
But it also described the harm as "less than substantial", which is an important qualification in terms of the National Planning Policy Framework.
Recommending the scheme for approval, City planning officers accepted that the development would have "an imposing scale" in views from Bishopsgate but argued that the building would not be "unduly oppressive".
They cited the impact of Hopkins Architects' 100 Liverpool Street, immediately to the north of the development site and being built by Sir Robert McAlpine, and AHMM'S 1-2 Broadgate, approved by the City in February.