Structural engineering consultant Symmetrys also plans to take on new staff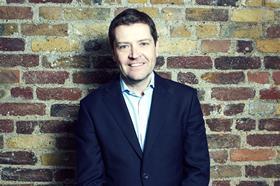 An SME engineer founded by a former Arup employee is aiming to double its turnover within the next two years.
Structural engineering consultant Symmetrys, set up a decade ago by former Arup, Bechtel and Hyder engineer Chris Atkins (pictured), also plans to take on 10 new staff over the next year to support its growth ambitions. The London-based firm posted revenue of just under £2m for the 2015 calendar year and has a headcount of 25.
Speaking to Building, Atkins, the engineer's managing director, said it is targeting work on large commercial and residential projects with a value above £55m, with particular focus on
the senior living sector. He also downplayed the impact of the Brexit vote on his firm's growth plans and said: "We've grown through the last recession and we plan to carry on growing post-Brexit."
Symmetrys practice manager Claire Palmer added that the referendum result hasn't yet had an impact on the business. She said: "There's a lot of talk about projects being put on hold, but we haven't seen or experienced that."
Palmer also said that despite the shortage of structural engineers in London, the firm is confident it can attract enough experienced engineers. She said: "There are challenges with recruitment. But as we've become more well-known, that hasn't become a problem."
Founded in 2006, Symmetrys celebrated its 10th anniversary last weekend.