Full details released of 13 consultants that will share £320m worth of work on first phase of new high speed rail line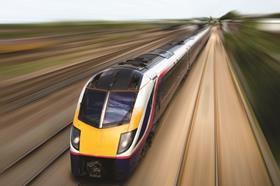 A tranche of contracts worth £320m for work on the new £32bn high speed rail line will be shared out between 13 consultants.
The list of firms, which will share 20 contracts between them, follows the announcement that CH2M Hill had bagged the lucrative development partner role on the High Speed 2 project (HS2), worth up to £70m.
The contracts, which are part of an overall framework, have been broken down into four lots: civil and structural design services; railway systems design; environmental services; and land referencing services.
Alison Munro, HS2 chief executive, said the seven civil and structural design contracts would be the biggest, with each package worth up to £30m, while each of the five environmental packages would be worth about £10m. The remainder of the overall figure would be made up by the land referencing contracts and the railway design services work, she said.
She said the contracts would "bring hundreds of jobs for the construction industry".
HS2 is expected to employ 9,000 people at its peak of construction. This initial framework represents the pre-construction phase of the scheme up until the end of 2014.
An eight-year construction phase is expected to start in 2017 ahead of the 2026 completion date for the first phase of the project. If approved, the second phase to Manchester and Leeds would complete in 2032.
The ultimate goal is to run the line up to Scotland to reduce the need for air travel within the UK and boost the scheme's environmental impact.
Don Ward, chief executive of Constructing Excellence, said that the line to Scotland was vital: "Only if we extend to Scotland will this project really stack up in terms of reducing car and plane usage."
A Department for Transport (DfT) spokesperson said the government's priority was to deliver the initial stages of the line to Birmingham and then on to the north of England.
But he added that DfT intended to "start discussions with Scotland on the opportunities for possible extensions early, and we will work with the Scottish government on the development of the high speed network".
The list is as follows:
Lot 1 – Civil and structural design services
Arup
AECOM-Hyder
WSP
Mott MacDonald
Jacobs
Atkins
Capita Symonds-Ineco
Lot 2 – Railway systems design services
Parsons Brinckerhoff
Mott MacDonald
Arup-Systra
Jacobs
Lot 3 – Environmental services
Lot 4 – Land referencing services
TerraQuest
Mouchel
Mott MacDonald
Miller & Bryce