Data company revises projected forecast for last year, suggesting a greater drop than predicted in autumn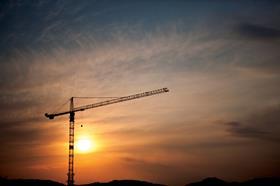 Construction sector output fell 8.5% last year and faster than previously forecast, information services company Experian has suggested.
The 8.5% drop was a downgrade on Experian's previous forecast in autumn 2012, when it said output would decline 7.5% over the full year. The official output figures for 2012, compiled by the ONS, have not yet been published.
Experian said the faster fall was "not just down to declining public sector work", but also weakness in private housing, infrastructure and commercial.
The forecaster also changed its projections for 2013 and 2014, when it expects output to decline by 3.5% and grow 0.8% respectively. In terms of sectors, Experian said prospects for public housing "remain poor", with output down in the first half of 2012 and expected to fall 22% over the year. Decline is expected to continue "well into 2013".
Experian said: "Until social housing providers are in a position to access significantly larger tranches of funding from sources other than government, they are stuck with the much lower levels of investment available in the 2011-2015 affordable housing programme."
Experian said of prospects for private housing: "There has been improvement [but] housing transactions and mortgage approvals remain around half of their pre-recession levels." The sector is forecast to have declined 2% in 2012 and grow 3% this year.
Infrastructure received a "surprise" downgrade for 2012, with output now expected to have fallen 15% in 2012, before a return to growth of 3% this year.
Repair and maintenance work is expected to perform better than new build in 2012-2014.
Experian said the infrastructure output fall was partly down to completion of the M25 widening and the A1 upgrade, and may also have been influenced by poor weather in June and suspension of some work during the Queen's Jubilee and the Olympics.