Building's CEO White Paper reveals clients 'often' pay late and banks are unwilling to give loans
Three quarters of leading bosses in construction have revealed they are "often" paid late by clients with almost a quarter complaining payments regularly come in more than four weeks' overdue.
The findings, revealed through a survey of 55 chief and other senior executives carried out as part of Building's new "state of the nation" style CEO White Paper, also pointed to wider financial difficulties.
These included problems with bank lending, with just 15% saying that the willingness of banks to lend to their business had improved over the past six months, one-fifth claiming the situation had actually worsened, and 42% saying the situation had remained about the same.
The government's Project Merlin is attempting to get the big four banks - HSBC, Lloyds, Barclays and RBS - to lend more to small and medium sized enterprises but construction is viewed as particularly high-risk by the banking sector due to factors including the low margins many firms operate at and their typical lack of tangible assets.
More than 60 construction leaders attended Building's CEO Summit at the Savoy on Thursday last week. It was the first of Building's quarterly networking events for chief executives.
Thursday's event, sponsored by AON, Fenwick Elliott and KPMG, was also the formal launch of the CEO White Paper, available on Building.co.uk from today.
Industry bosses including Terry Morgan, chairman of Crossrail, John Frankiewicz, chief executive of Willmott Dixon and Jeremy Horner, chief executive of Europe and Middle East at Davis Langdon, heard key findings from the report, which reveals the current thinking from a total of 75 construction CEOs and other senior executives.
Will Hurst, report author and Building's assistant editor, revealed that nearly 50% of CEOs were expecting to be involved in consolidation, with 18% expecting to acquire and 9% to merge. Hurst said the report showed a growing North/South divide, commitment to BIM and a desire to move into western European markets.
CEO State of the Nation White Paper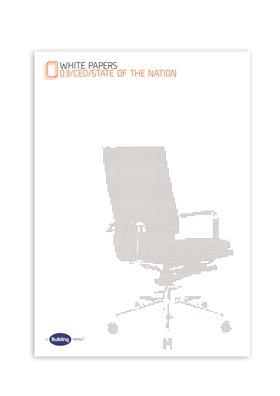 Building's CEO State of the Nation White Paper is released today. It includes:
Findings from 75 CEOs across the built environment through a survey and phone interviews, including attitudes towards market confidence, BIM and government policy
Economic overview and analysis
Forecasting analysis
Activity intelligence - contract and project data from Barbour ABI and data on international markets
Insight into the thinking of contractors, consultants, manufacturers and clients
A legislative and regulatory overview.