Architect's vision is key part of plans for HS2 line to benefit the wider north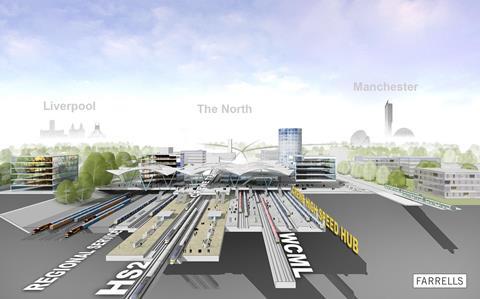 Farrells has unveiled its design for a key new HS2 Superhub station at Crewe.
The firm has been working on the project for the past two years after being asked to come up with a scheme by Cheshire East council.
The design integrates HS2, West Coast main line and local services on one level bringing together traditional rail and high speed services under one roof.
Neil Bennett, infrastructure partner at Farrells, said: "We have developed a design for the station which puts the passenger experience at its heart, with easy interchange between HS2 and regular rail services on one level.
"The Superhub is not only a win for truly networked transport connectivity across the north west but also for the power of integrated infrastructure to drive growth and regeneration across the northern powerhouse cities."
HS2 chairman David Higgins wants the HS2 line extended from Birmingham to Crewe by 2027, six years earlier than planned. In a report on the HS2 scheme published yesterday, Higgins also gave further details about the proposed route north of Birmingham and outlined his support for a HS3 link between Manchester and Leeds which has also been backed by prime minister David Cameron.
Higgins said HS2 should be used as a catalyst for further rail investment in the north, including the construction of a fast Leeds to Manchester rail link, which could halve the current 55 minute journey time.
The former Network Rail chief executive also calls for the transport authorities of five northern cities to come together to form a transport umbrella body called Transport for the North. Higgins said improving train services in the north were "as important to the north of England as Crossrail is for London".
His report has now been submitted to the government and the final decision on the recommendations made by ministers with the detailed plans for Phase Two to be published before the election next year.
This story first appeared on Building Design.
Higgins' key proposals
Need to take forward both legs of the proposed HS2 Y-network – the alternatives will not bring the same capacity, connectivity and economic benefits.
Improve the rail services between east and west – sharply reducing journey times between Liverpool, Manchester, Leeds, Sheffield and Hull will stimulate local economies. Higgins says the journey from Leeds to Manchester could be cut from today's average of over 55 minutes to somewhere between 26 and 35 minutes, depending on which option is chosen, and the number of trains could be doubled.
Northern cities should speak with one voice – local authorities from five key cities should join together to form a new body. Higgins suggests calling the group Transport for the North.
Set out a timetable to develop a new transport strategy – building on the One North report to decide on an approach for improving rail and road connectivity across and within the region north of Birmingham.