Contractor slides to £14.8m pre-tax loss for 2015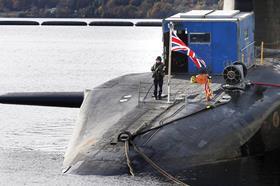 Problems on a brace of schemes at the Faslane naval base in Scotland continue to dog Morgan Sindall with the hitches blowing a hole in its 2015 accounts.
Morgan Sindall made a writedown on the work of £47m for the year, meaning the firm racked up a pre-tax loss of £14.8m in 2015 compared to a £23m profit last time.
The firm has completed work at a floating jetty at the Faslane base, best known for being the home of the UK's nuclear deterrent, along with neighbouring living accommodation.
The Ministry of Defence contracts came with Morgan Sindall's deal to snap up Amec's construction and civils arm nine years ago as part of that firm's decision to concentrate on its engineering business.
Chief executive John Morgan said a red line had been drawn underneath the losses and added: "It's an issue that's behind us. We don't expect to mention it again."
He said office fit-out work was the stellar performer with the firm increasing its operating profit and workloads. Around 70% of its fit-out work is in the capital but Morgan said this had come down from a mark closer to 90% a decade ago as the recovery in work in big regional cities such as Birmingham and Manchester continued.
The bulk of its work remains in contracting but Morgan said spare cash was being invested in its urban regeneration business which had a turnover of £110m but posted operating margins of close to 12%.
Overall turnover at the business was up 7.5% to £2.4bn with underlying pre-tax profit coming in at £32m.