European Investment Bank agrees to £150m loan towards £250m Belfast higher education project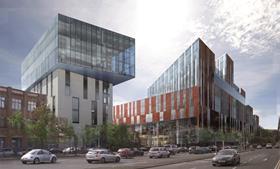 Plans for a new £250m campus for the University of Ulster in Belfast designed by Feilden Clegg Bradley Studios have received a massive boost in the form of £150m worth of loan finance.
A spokesperson for the university confirmed that the money had been approved by the European Investment Bank (EIB) but has not yet been formally announced ahead of an event planned for next month.
Feilden Clegg's high-density campus comprises 70,000sq m of higher education space across three linked sites in Belfast's Cathedral Quarter, accommodating up to 15,000 students and staff.
Internal layouts are designed to encourage collaboration across faculties and research disciplines.
Last year, minister for employment and learning Stephen Farry hailed the "enormous" economic potential of the plans in terms of the construction impact and longer-term spending power of those attracted to the campus.
Construction is due to begin in 2015 and be completed by 2018.