Fresh corruption allegations prompt further opposition to Qatar World Cup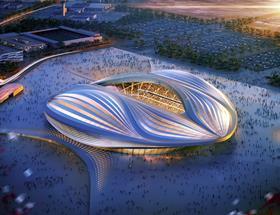 A senior Fifa official and several British politicians have called for a re-run of the vote that awarded the 2022 World Cup to Qatar, amid fresh corruption allegations.
The Sunday Times alleges Mohamed bin Hammam, a Qatari former Fifa executive committee member, paid $5m (£3m) in cash, gifts and legal fees to senior football officials to help build a consensus of support behind the country's bid.
Fifa is awaiting the results of an inquiry into the 2018 and 2022 bidding races being undertaken by Fifa's ethics prosecutor Michael Garcia, a former US attorney in New York.
The Qatari organising committee for the 2022 World Cup is set to meet Garcia in Oman today, according to the BBC.
Jim Boyce, the British Fifa vice-president, said he would have "absolutely no problem" if the ethics committee recommended a new vote in light of proven wrongdoing.
The shadow sports minister, Clive Efford, called for a rerun of the vote: "This issue calls the governance of football into question. No one will have any confidence in a Fifa investigation run by Sepp Blatter.
"Fifa must take urgent action and reopen the bidding for the 2022 World Cup if it wants to restore its credibility."
Sports minister, Helen Grant, said: "These appear to be very serious allegations. It is essential that major sporting events are awarded in an open, fair and transparent manner."
John Whittingdale, the Tory chair of the culture media and sport select committee, said Blatter's position was "almost untenable" and called for a "urgent and full transparent investigation to establish the facts".
Yuichiro Nakajima, head of Japan's unsuccessful bid to host the 2022 World Cup, today told the BBC Radio 4 Today programme this morning that the allegations should be investigated by Garcia and backed calls for the bid process to be rerun.
"All of this points to the need for a major reform at how Fifa is governed," Nakajima said.
Meanwhile, chief executive of Football Federation Australia, David Gallop, told local media it had been "heavily involved" in investigating claims of corruption in Qatar's successful World Cup bid.
"We need to get more information about what's been revealed in the last 48 hours," Gallop told SEN radio in Melbourne.
"But don't be under any illusion that we haven't been heavily involved in all of this for some time now.
"We've been involved in interviews, production of documents and also following carefully what's been happening away from Australia – so we've got people that have been involved for some time now."
Several UK construction firms are working on the development of stadia and infrastructure for the Qatar 2022 World Cup, including Gardiner & Theobald, Arup, EC Harris and Zaha Hadid Architects, with a number of other UK firms understood to be lining up or considering bidding for World Cup work.