EDF ready to press ahead with nuclear plant after securing £6bn of Chinese investment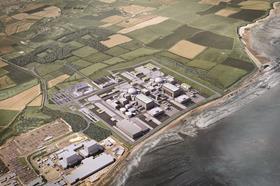 EDF is set to make a final investment decision on building the £18bn Hinkley Point C nuclear power plant in Somerset within weeks, after it was confirmed the Chinese will sink £6bn into the scheme.
The investment by China General Nuclear Power Corporation was confirmed in a news conference by prime minister David Cameron and Chinese president Xi Jingping.
EDF said it will now make a final investment decision on the long-awaited mega project by the end of the year.
EDF and CGN have also agreed head of terms on a wider UK partnership for the joint development of new nuclear power stations at Sizewell in Suffolk and Bradwell in Essex. Terms will be in final form before the final investment decision for Hinkley Point C.
It added that final terms for contracts with a number of key suppliers for the Hinkley plant have been agreed.
EDF has agreed terms with Areva NP – who will provide services for the nuclear steam supply system, instrumentation and control – as well as Alstom France (turbines) and Alstom UK (services during operations).
It has also agreed terms with a Bouygues TP/Laing O'Rourke JV for main civil works and a BAM Nuttall/Kier JV for earthworks.
A raft of firms including Balfour Beatty, NG Bailey, Laing O'Rourke, Jacobs, Gleeds, Faithful + Gould, Turner & Townsend and Mace stand to benefit once the final investment decision is finally made, after they were named as preferred bidders for £1.3bn of construction contracts in July, provisional on EDF fully committing to the scheme.
EDF chairman Jean-Bernard Lévy said: "Today marks a big step forward for EDF's 30 year partnership with our Chinese partner CGN. Our ambitious nuclear projects are strongly supported by the governments of the UK, China and France and they will bring benefits to all three countries.
"I am confident that our experience and ability mean we will successfully deliver Hinkley Point C and subsequent projects. We are planning for a final investment decision within weeks so that we can move forward with construction."
Prime Minister David Cameron said: "I'm pleased to announce that today we are signing an historic deal to build the Hinkley nuclear power station, providing reliable, affordable energy for nearly six million homes and creating more than 25,000 jobs, all while working together to build a low-carbon future."
Fellow prospective nuclear plant developer Horizon welcomed the news: said: "Today's news marks a major step forward for nuclear new build in the UK and we look forward to seeing EDF progress their important project at Hinkley.
"Nuclear power has a vital role to play in helping meet the country's energy needs and environmental goals and this sends a firm signal that new build is moving ahead in the UK."
More to follow…