Allied London has completed its planning submissions for the entire St John's masterplan in Manchester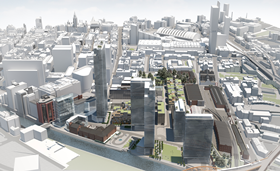 Allied London has submitted final plans for its vast redevelopment of the St John's area of Manchester - including the city's first 'vertical village'.
The planning applications include St John's Place, The Villages, the Riverside and the Trinity Islands 'vertical village' (pictured bottom right). The plans include the redevelopment of ITV's former Granada studios buildings and Coronation Street set.
St John's Place is set to be the gateway to the new St John's neighbourhood and comprises four mixed-use buildings, the largest of which will be a 50-storey tower housing 280 apartments and a 180-room hotel.
Applications have also been submitted for phase two of The Villages, a low-rise mixed-use development, featuring a tree-lined bridge interconnecting roof gardens.
Detailed plans have also been submitted for The Riverside providing green space along the River Irwell and two residential towers 30 and 40 storeys in height. The area will also feature an arts and culture hub, The Factory, being developed in conjunction with Manchester City Council.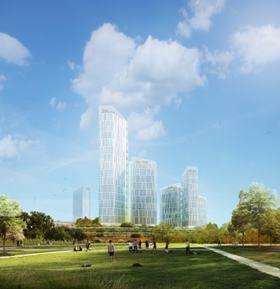 The buildings and overall masterplan have been designed by Simpson Haugh architects, while Trinity Islands, has been designed by Child Graddon Lewis architects.
WSP Parsons Brinckerhoff has been appointed to the first phase of two of the interconnected towers at Trinity Islands. They are to provide a range of services, including civil and structural engineering, building services, façade engineering, vertical transportation, geotechnical and fire assessments.
The firms Manchester team has also worked with architects Child Graddon Lewis on the planning application which will be submitted in August.
Trinity Islands comprises six interconnected towers designed to sit on podiums made to look liked landscaped fields hosting 1,200 homes over 4.7 acres, as well as offering retail and office space.
Allied London proposes to start construction work on St. John's, which sits on land formerly belonging to ITV's estate, in 2016 subject to planning approval.
Michael Ingall, chief executive at Allied London said, "We intend to foster a close relationship with all future members of the Trinity Islands and St. John's community from the outset. Our strategy will see Allied London engage with future residents of these new neighbourhoods and will allow them to help mould the communities in which they live.