Incoming boss would want assurance there was no more downside, says leading City analyst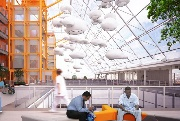 Carillion may have to spend months trying to find the right candidate to replace former chief executive Richard Howson, who stepped down this morning.
Howson, who took over from John McDonough at the beginning of 2012 and earned £1.5m last year, quit as the £5bn-turnover firm issued a profits warning, suspended its dividend for the year and announced a £845m provision on a number of its contracts, including three unnamed Public Private Partnerships (PPP) deals in the UK, prompting its shares to dive by nearly a third to 133p.
Kevin Cammack, a construction analyst with Cenko, said anyone considering taking the top job at Carillion would need re-assuring there was no more surprises to come, following the measures that had been announced today.
"Finding a replacement won't be hard; finding a good one might be," said Cammack, who added that Carillion "now looks dangerously holed below the water line and there is no easy recovery to set a base".
In March, the company said accountant KPMG would be carrying out a strategic review of the business with three-quarters of the firm now looked at – while a review of the remaining business announced today is due to be completed by September, when Carillion will reveals its half year results.
Cammack added: "If there is further downside, given that around a quarter of the group's activities are yet to be looked at, that could affect recruitment, not least because Carillion would be looking to offer equity as an incentive.
"What actions might need to be taken following the new review? Carillion will need to paint a picture of the business going forward which it can put in front of someone," he said.
Cammack said there was little or no surprise in the announcement of provisions, which covered three of Carillion's UK contracts and a number of overseas ones.
"What was a surprise is the scale of them," he added. "The group needs an equity injection of at least £400m to have a viable balance sheet structure sufficient to appease banks and clients alike. What hope is there of the company raising that sum of money currently?"
In last year's report and accounts, Carillion said it was one of the largest PPP operators in the UK, with 81% of the £310m PPP revenues being derived domestically.
Speculation is falling on which UK contracts might be responsible for the problems.
In May, it was announced that construction at one of Carillion's PPP projects, the Midland Metropolitan Hospital (pictured) in the West Midlands, has been delayed six months.
The scheme at Smethwick was due to open in October 2018 but this has been pushed back until the following spring.
Sandwell and West Birmingham Hospitals NHS Trust chief executive Toby Lewis said: "The mechanical and electrical design for the new building, which is being built by Carillion, is behind schedule and, despite everyone's best efforts, cannot match the programme needed for our planned opening date."
Carillion project director David Hollywood said it was working with the trust to "confirm a new completion date".
The group also saw costs soar at the Sheffield-Rotherham tram project, which are understood to have risen by 400% since the work was orignally commissioned in 2012. The project is now likely to be coompleted nearly three years late.