Arup engineer made comments in October 2014
A fire expert warned a building control body that the use of combustible materials on high-rise buildings in the years leading up to the Grenfell fire was "an accident waiting to happen", the inquiry has heard.
Arup fire engineer Dr Barbara Lane, who is now an expert witness at the inquiry, made the warning to the National House Building Council (NHBC) in October 2014 – nearly three years before the disaster at the west London tower block.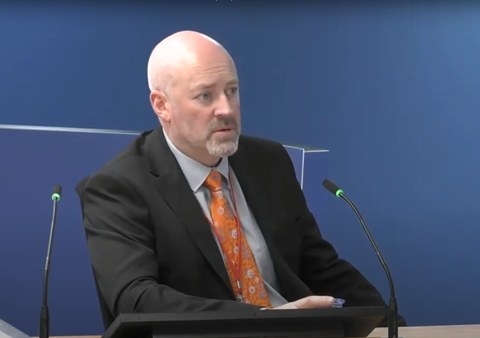 Lane had spoken with manufacturer Kingspan to ratify test data for its K15 insulation product, which the inquiry has heard was being marketed as safe for use on buildings above 18m on the basis of a 2005 test report for a different product.
Yesterday's hearing was told that Lane had been unable to "positively review" it.
She then told the NHBC: "Arup are actually deeply concerned about the lack of understanding of assemblies [of products] and the ongoing incorrect use of test reports for individual materials being applied to more complex building envelope forms.
"The use of highly combustible materials in residential buildings is now simply an accident waiting to happen."
Former Kingspan technical lead Tony Millichap told the inquiry that he could not remember being aware of Lane's comments at the time.
The NHBC also wrote to Kingspan in October 2014 outlining seven key risks of installing combustible material on tall buildings, including the reliance on the "stay put" policy advising residents not to attempt to escape burning buildings, and the dangers posed by fires starting while occupants are sleeping.
Inquiry barrister Kate Grange QC asked Millichap: "Those risk factors that are set out there so clearly by the NHBC, did that not prompt any reconsideration from you about whether it was appropriate to keep selling K15?"
Millichap, who worked at Kingspan between 2010 and 2015, replied: "Yes, concerns were there, we understood those concerns and were trying to work towards satisfying those concerns with [the NHBC]."
But when the NHBC said it would start warning construction firms that K15 was not safe for use on buildings above 18m, Kingspan responded by threatening an injunction on the grounds of defamation.
In its response to the NHBC, Kingspan referenced two 2014 tests as evidence that K15 was safe. It did not mention that the tests had been conducted on a trial product which was chemically different to K15, and that only one of the tests had passed.
Grange asked Millichap: "Is the reality that you were just in too deep by this point? K15 was on too many tall buildings and you had defended its position for so long, it was simply inconceivable that you would change tack? Is that the reality now?"
Millichap replied: "No, I don't believe it is. We were working with good intentions towards a product that was suitable. We were providing evidence that we had at the time for it to be assessed by people that were responsible for signing off."
In 2016 the NHBC published guidance which claimed that K15 was in fact safe for use on buildings above 18m.
K15 was never specified for use as part of the refurbishment of Grenfell Tower but after the 2017 Grenfell fire, which killed 72 people, it was found to have been installed behind the new aluminium composite material cladding on some parts of the block.
The inquiry continues.