Proposal for power station in ruins as NuGen is scrapped by owners Toshiba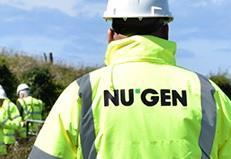 Plans to build a nuclear power station in Moorside, Cumbria, have finally been scuppered with the company previously set to build and invest in the plant, NuGen, due to be wound up in the New Year.
Toshiba spent 18 months trying to sell NuGen but failed to find a firm willing to invest in the nuclear project. In September NuGen announced it was cutting 60 jobs from its workforce of 100 staff.
Now Toshiba has decided to call it quits. In a statement, the firm said: "Toshiba recognises that the economically rational decision is to withdraw from the UK nuclear power plant construction project and has resolved to take steps to wind-up NuGen".
Toshiba added that it would lose ¥18.8bn (£125m) from winding up the company.
The site, near Sellafield, is still earmarked for a new nuclear plant, so with support from government and the Nuclear Decommissioning Authority plans for a power station in Moorside could yet be revived.
NuGen was originally a joint venture between Toshiba and French utility firm Engie but ran into trouble last year when Toshiba's US subsidiary Westinghouse – which had been due to supply the nuclear reactor for Moorside – filed for bankruptcy.
Engie walked away from NuGen, leaving Toshiba to try and sell the vehicle after posting a $8.4bn (£6.4bn) loss for the year ending 31 March 2017.
South Korean state-owned Kepco was chosen as preferred bidder over China General Nuclear in December last year but lost its preferred status in August after protracted talks hit delays – including a change of chief executive and a new government in Seoul.