Exclusive: CH2M Hill and EC Harris among firms competing for programme management role on Saudi rail scheme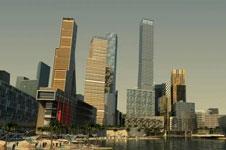 Consultants EC Harris, CH2M Hill and Atkins are among those in the running to manage the £6bn Jeddah Metro project, Building understands.
CH2M Hill and Atkins are understood to be in a consortium competing with a team comprising EC Harris, Serco and Network Rail Consulting for the programme management role on the mega-project in Saudi Arabia.
Building understands that a third consortium led by consultant Parsons Brinkerhoff is also in the running.
The metro system will consist of three separate lines. The first will be the 67km Orange line with 22 stations running north to south through the city. The second stretch will be the 24km Blue line running from King Abdulaziz International airport through the centre of town with 17 stations. The Green line will stretch 17km along the Old Palestine Road with seven stations.
The programme manager role will also include consultancy work on developing the city's 816-strong bus and taxi network across the city.
The whole project is being funded by the Saudi Arabian government, which has identified the scheme as a priority, in a bid to ease traffic congestion in the city.
The project is expected to be completed and up and running within seven years. The initial contract is understood to be for eight months but the winning bidder is expected to then be appointed to deliver the complete project.
All the firms in the running have had recent success in Saudi. Building revealed in February that EC Harris had won a role overseeing the construction of the world's tallest building, the Kingdom Tower, alongside contractor Mace.
Atkins is already working as lead designer on the expansion of King Abdulaziz International airport in Jeddah, while CH2M Hill also recently won a role providing design review advice on the £800m expansion programme at the Madinah airport in Saudi Arabia.
Meanwhile, Parsons Brinckerhoff is already supporting the procurement and development of a project to expand transport networks, including the metro, in Mecca.
The Jeddah Metro is just one of several massive rail projects in the region. Riyadh is also introducing a metro system with six lines and 85 stations, the Mecca metro is being expanded and there are also multiple inter-city rail lines under development.

Jeddah Metro project key numbers
£6bn project value
3 separate lines running 108km in total
46 stations