Lend Lease scheme of 235 homes set to be "among the most sustainable in Britain"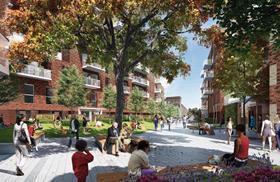 Developer Lend Lease has been given planning for the first phase of the Elephant & Castle's Heygate Estate regeneration in south London.
The 235-home scheme, designed by architect de Rijke Marsh Morgan (dRMM), was approved by Southwark Council and will be "among the most sustainable in Britain," it is claimed.
The homes, to be built on a 1.14ha site next to the existing Heygate Estate, will be in eight main residential buildings of differing heights, and will all reach level four of the Code for Sustainable Homes.
They will vary in size from studios to four-bedroom homes, will be 25% affordable and will be set within a variety of landscaped habitat areas including a "woodland walk; a rain pool and wetland feature…and a garden square and al fresco café space for residents and the wider community to enjoy", Lend Lease said.
Lend Lease managing director of UK residential development, Mark Dickinson, said this would create a "healthy and thriving urban quarter".
"During a wide-ranging and thorough consultation, we've worked closely with the community and listened to their feedback," he said.
"This feedback has helped shape the final development and influenced many improvements to the scheme, such as a reduction in density, the introduction of more family-sized homes, additional landscaping works to transform Victory Place, a reduction in car parking and the retention of as many existing mature trees as possible."
Cllr Fiona Colley, the council's cabinet member for regeneration, said: "Last month we saw the Heygate masterplan given the go-ahead which was a major milestone. "This week's decision is just as important as it means we, with our development partners, can start to bring those plans to life.
"The regeneration of Elephant & Castle is a unique and world-beating project that will deliver almost 5,000 new homes in the heart of the capital, 6,000 construction jobs, a brand new leisure centre, major transport and infrastructure improvements as well as a major new park for local residents."
Lend Lease plans to start selling phase one homes in April and start construction later this year with completion expected in 2015.