Schemes up for grabs include work at new homes for BBC, V&A and Sadler's Wells theatre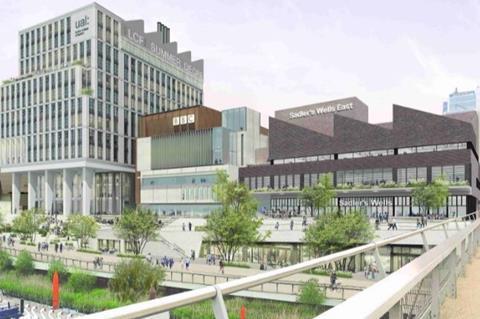 Fit-out contractors have been put on notice about £45m of work set to be put out to tender at the East Bank development on Stratford Waterfront.
The London Legacy Development Company (LLDC) is responsible for the project, which will see the V&A, BBC, Sadler's Wells and London College of Fashion take up residence in east London.
The LLDC has revealed that there will be two fit-out packages which are set to be worth £20m and £25m respectively.
The winner of the larger contract will be responsible for the interiors of the new BBC, V&A and Sadler's Wells facilities.
Expressions of interest for this deal are set to open in June.
The £20m contract is for the fit-out the University of the Arts London's new London College of Fashion and is due to go out to tender in May.
The LLDC is hosting an industry day for interested firms on 27 February, with companies asked to register their interest by this Friday (22 February).
The East Bank scheme is being let under a CM deal with Mace the project manager.
Meanwhile, the LLDC has also revealed the shortlist of five firms that are in the running for the £26m structural frame and roof works contract to build the new London College of Fashion.
Careys, McGee and Byrne Bros are chasing the deal, as are Expanded and Kilnbridge.
A contractor is due to be appointed in July.