Delayed Stratford project slated for 2025 opening
Firms have been put on notice for a £10m fit out contract for the new V&A East Museum in Stratford.
Main contractor Mace is currently installing the facade after topping out the five-storey scheme last December and the museum is now looking for a company to carry out a "white box" fit-out.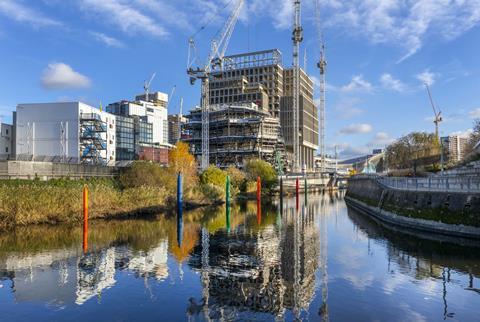 The scope of the contract, which runs from April 2023 to May 2024, includes MEP, partitions, flooring and FFE.
Part of the £1.1bn East Bank cultural district, the museum will be neighboured by buildings for the BBC, London College of Fashion, Sadler's Wells and UCL on the Allies & Morrison-masterplanned Stratford Waterfront.
Ground was broken on the scheme in August 2019 and the museum was initially slated to open in 2023. That has been revised to spring 2025, with the delay blamed on the coronavirus pandemic.
The museum's design, carried out by O'Donnell + Tuomey, is supposedly inspired by an x-ray of a 1954 Cristóbal Balenciaga silk taffeta evening dress taken by photographer Nick Veasey, as well as the architects' explorations into the Japanese concept of "Ma" or "the space between".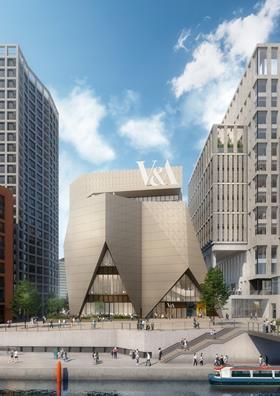 V&A East, a sister to the original V&A in South Kensington and Kengo Kuma's Dundee outpost, built by Bam, will be comprised not only of V&A East Museum, but also V&A East Storehouse.
The storehouse is a collection and research centre based at Here East – a technology park initially designed by Diller Scofidio + Renfro as a media centre for the London Olympics.
The collection centre will allow visitors to look at the museum behind the scenes and find out how and why objects are collected.
O'Donnell + Tuomey is also responsible for some residential elements of the East Bank project, and the new Sadler's Wells building.
Firms have until 30 June to submit a bid for the fitout contract.