Winner for motorway site chosen early next year
A competition to design a £6.3m national prayer landmark has been whittled down to five architects.
The scheme will consist of a million bricks – which the team behind the scheme called The Wall say is designed to represent a million answered prayers – and will be built by the side of a motorway.
Ten sites will be chosen as potential locations with the preferred site due to be named this summer.
Organised by the RIBA, the competition, which will use one million bricks, attracted 134 entries from 24 countries.
Richard Gamble, director of the Wall of Answered Prayer, said the scheme has been in the pipeline for 13 years and added: "It's now exciting to see what the concept design of this National Prayer Landmark might be and the way in which the brief has been interpreted."
The five shortlisted designs will now go on a national tour with a winner due to be chosen this time next year. One scheme by a Danish bidder (see below) has already been chosen as the public's preferred choice.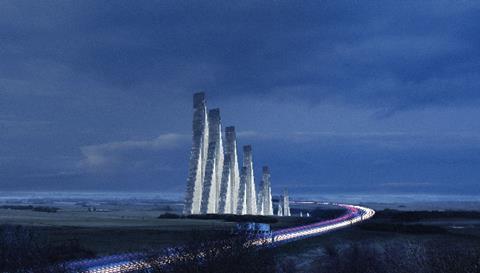 Judges include Labour MP Stephen Timms, who is chair of the all-party parliamentary group for faith and society, and Renato Benedetti, founder of Benedetti Architects the firm he set up last summer after the practice he had helped previously form, McDowell & Benedetti, split up after 20 years. Broadcaster Pam Rhodes, who presents the BBC's Songs of Praise, is also a judge.
Work on the scheme is expected to start in 2020 with the project taking up to two years to build.
The shortlist
Snug Architects (UK)
Stefano Baseggio (Italy)
Quattro Design Architects (UK)
Mathias Bank Stigsen, Asbjørn Staunstrup Lund & Thomas Sigsgaard Jensen (Denmark)
Luke Macnab, Andrew Wardrope & Thu Nguyen-Phuoc with support from Feilden Clegg Bradley Studios (UK)