Scheme aims to be a recognised mark of quality with consumers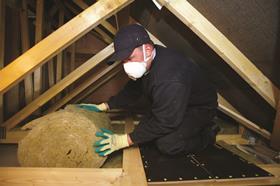 The Federation of Master Builders has launched a Green Deal certification scheme to boost small builders' ability to participate in the Green Deal.
The government's Green Deal scheme is intended to boost retrofit work by allowing householders to attach a loan for the work to their property.
The FMB plans to make it easier for builders to offer the scheme by allowing them to register under a single certification scheme for the wide range of measures offered under the Green Deal.
Brian Berry, chief executive of the FMB said he wanted the certification to become a brand recognised by consumers as guaranteeing high quality building work.
He added: "FMB certification will also offer Competent Person Scheme Registration and Microgeneration Certification Scheme (MCS) Installer Certification. This means we can provide a complete solution certification service to companies seeking new opportunities across a range of disciplines and building types."