Manchester Civic Society takes consent for Hodder's 40-storey tower to court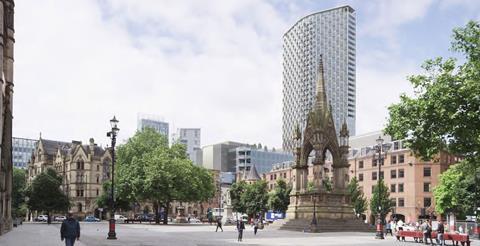 Hodder & Partners' 40-storey St Michael's development in Manchester is facing a fresh challenge, with Manchester Civic Society set to dispute its planning permission.
Soliciters acting on behalf of the society served judicial review papers on Manchester council this week, raising issues including the correct legal approach to assessing whether a development will cause substantial harm to heritage assets under the National Planning Policy Framework.
Manchester council approved the £200m scheme – created by the practice for a consortium fronted by former Manchester United stars Gary Neville and Ryan Giggs, with the backing of Chinese investor BCEGI Group – in March, despite opposition from the society as well as Save Britain's Heritage and the Victorian Society.
Government heritage adviser Historic England had also expressed concerns over the impact of the proposals on Manchester's Deansgate/Peter's Street Conservation Area, which predominantly features 19th-century buildings of three to six storeys.
Save Britain's Heritage urged then-housing and communities secretary Sajid Javid call in the proposals to explore their merit and impact, but a decision notice issued by Manchester city council and published on June 20 formally granted planning permission for the development to be commenced between now and 2021.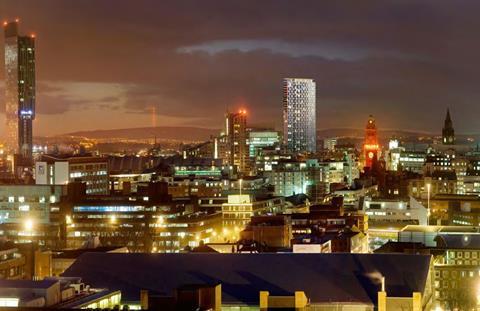 Manchester Civic Society's grounds for a challenge are likely to go before a judge in September who will consider whether to grant permission for a judicial review of the council's decision.
If permission to proceed is granted, the judicial review is likely to be heard within the next six months.
The legal action was funded by a crowdfunding campaign which raised £6,000 to bring the legal proceedings to this stage.
The Hodder scheme would deliver up to 189 apartments and a 216-room hotel in the main tower. A separate 10-storey block would deliver 13,721sq m of new commercial space.
But the proposals would come at the cost of demolishing the Manchester Reform Synagogue and all but the façade of Bootle Street Police Station, as well as changing the city's skyline and the setting of listed structures in the city's core civic area.
Hodder was appointed to the scheme after earlier proposals by Ken Shuttleworth's Make Architects were withdrawn by the developers because of multi-faceted objections.
Make's scheme would have delivered broadly the same quantity of space as Hodder's, but did so via 21- and 31-storey towers located in different parts of the site footprint, off Jackson's Row in the city centre.
Hodder's scheme retains the police station façade, which would have been lost by the Make proposals. It also retains 19th-century pub the Sir Ralph Abercromby, which the Make scheme would have demolished.