Richard Adam left transport firm First Group on Friday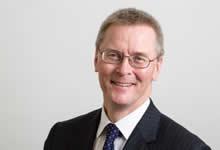 Former Carillion finance director Richard Adam has stepped down from a director's role at transport business First Group.
The firm announced last September Adam had resigned his position as a non-executive at the FTSE 250 business.
He joined the company last February as chair of the £5.6bn turnover firm's audit committee but the firm said he would remain until a successor was appointed.
Adam (pictured) left on Friday after the firm announced that he had been replaced by former BBC non-exec David Robbie.
Adam, who left Carillion at the end of 2016 after nearly a decade in the role, is listed to appear before a parliamentary select committee tomorrow (Tuesday) looking into Carillion's collapse. Others due to be questioned by MPs include former chief executive Richard Howson and Keith Cochrane who took over from him on an interim basis after Howson left in the wake of last July's £845m writedown.
Adam continues to head up the audit committee at listed estate agent Countrywide after being appointed to the role at the £737m business back in August 2014. But last October the firm said he had decided to leave the role at its next AGM which is set to take place this April.
He has stepped down from a number of non-exec roles in recent weeks including positions at housebuilder Countryside and warship builder BMT Group.