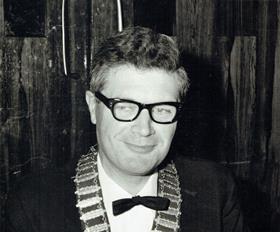 Rex Reynolds, former president of the Institute of the Clerk of Works (ICW), has died at the age of 89.
Reynolds qualified as a bricklayer, contract foreman and area building manager for Bath city council and became the ICW's youngest member in 1954, before becoming its president six years later, again the youngest person to hold the position.
He was clerk of works for a number of projects including the refurbishment of reservoirs and ground works at Windsor Great Park, shops and office on London's Oxford Street and a revamp of Duke Hall in the Royal Academy of Music.
In 1970 he founded his own construction firm, Reynolds and Hawkins, based in Clerkenwell, central London, and employing 60 people.
Nine years later, he was made a member of the Worshipful Company of Glovers and granted the Freedom of the City of London, permitting him to drive sheep over London Bridge, a right he fulfilled in 2014, the same year he was presented with the ICW's Lifetime Achievement Award for 60 years' service in the organisation.
A widower, Reynolds (pictured) leaves three children, Lloyd, Avis and Carole.