Exclusive: 'Driving force' behind contractor's fit-out division looks to double turnover at interiors specialist BWI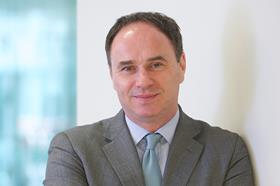 The former top team from Morgan Sindall's £400m fit-out businesses, Overbury and Morgan Lovell, have been appointed to lead a transformative growth plan for £80m-turnover rival BW Interiors.
Steve Elliott (pictured), who was managing director of Overbury from 1996 and the group's overall fit-out division from 1998, and Paul Newton, who was finance director of the division from 2000, have joined the London and South-east fit-out firm BW Interiors (BWI).
Elliott has been appointed chairman and chief executive of the company, with Newton appointed as its finance director.
Elliott said he had also taken a "small" stake in BWI, which works in the same high-end commercial fit-out market as Overbury and ISG, and that he was looking to more than double the turnover of the firm to as much as £200m.
Founders and co-owners Mark Richards and Craig Foster will now take a back seat as non-executive directors.
It is a bit early to say how big the firm [BWI] could be, but turnover of £150m-£200m is very doable

Steve Elliott, BWI
Elliott was one of a number of senior departures from contractor Morgan Sindall last year, where Chris Booth now runs the firm's lucrative fit-out division.
Elliott, who joined Overbury in 1989, was widely seen as the principal architect of the firm's success over the last decade.
He was the driving force behind the group's "Perfect Delivery" ethos, which measures the performance of Morgan Sindall businesses according to their ability to complete projects on time, on budget and without defects.
Elliott said the intention was to grow BWI "by being the best" but that a detailed business plan would not be finalised until early next year. He said: "It is a bit early to say how big the firm could be, but turnover of £150m-£200m is very doable in the current market and sustainable."
He said clients were "crying out" for choice in the fit-out market and his ambition was to provide an alternative to the major players.
He added: "It's a very buoyant market to come in to and, at the moment, there's a lack of choice – it's basically ISG or Overbury."
BWI turned over £71m in the year to September 2013, making £667,000 in pre-tax profit, but will turn over around £80m in 2014.
Elliott said he was looking forward to growing the business in the same way he contributed to the success of Overbury.