Charles McBeath recruited by rival firm as operations director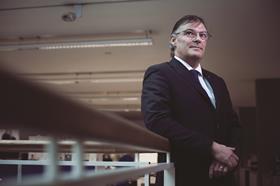 Former Ramboll UK managing director Charles McBeath has joined rival engineer Pell Frischmann as operations director.
McBeath is the second senior hire at Pell Frischmann in recent months, after former Atkins chief executive Keith Clarke joined the firm as deputy chairman in March.
McBeath, who joined Pell Frischmann on April 1, said: "Pell Frischmann is founded on strong relationships with its clients and this will continue to be a fundamental principle for the company."
McBeath departed Ramboll UK without explanation in September, as the firm announced it was making 50 staff redundant.
He was replaced by Steve Canadine, who was previously chief executive of UK engineer Gifford prior to its 2011 takeover by Ramboll.
Pell Frischmann is a privately-owned engineer headquartered in London with eight other UK regional offices and operations in the Middle East, India and Eastern Europe. The firm says it is responsible for more than £1bn of construction projects.
Pell Frischamm said Clarke and McBeath's appointments were part of an "ongoing succession strategy" to allow the private ownership to continue "whilst strengthening the management structure".