Mike Green moves on after decade at DfE
Mike Green has been appointed chief executive at the Defence Infrastructure Organisation (DIO).
The government's former schoolbuilding boss has worked in the civil service for a decade, most recently as chief operating officer of the Department for Education (DfE) and director general of its operations directorate.
Prior to these roles, he served as the director of capital at the Education Funding Agency, overseeing the Priority Schools Building Programme as well as site acquisition and construction on the government's Free School Programme.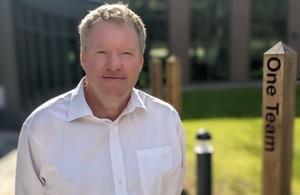 Before joining the civil service, Green worked as a civil engineer for various contractors including Mowlem, AF Budge and Thyssen, later overseeing the maintenance of 3,000 buildings at the property arm of retailer Boots.
Green will replace Graham Dalton as the boss of the DIO, after the former chief executive's retirement last month.
As part of the Ministry of Defence (MoD), the DIO serves as the UK's Armed Forces' estate expert, enabling military capacity by building, maintaining and servicing infrastructure.
Green said the next months would see him "getting to know the organisation and working closely with our customers to ensure that the needs of Service Personnel and families are at the forefront of everything we do".
MoD permanent secretary David Williams added: "Mike brings a wealth of very relevant leadership, commercial, transformation and delivery experience and the strong customer focus required to deliver effective service improvements."
DIO board chairperson Neil Sachdev said: "It's an exciting time in DIO's journey, as it steps up to the challenge of delivering against its ambitious 10-year strategy.
"Mike joins us at a time when DIO steps up to deliver for our customers, creating a world-class Defence estate."
According to a job advertisement on LinkedIn, the DfE is still looking for Green's replacement.