Grenfell Inquiry told that fears over widespread use of ACM panels 'should have been gripped better'
A former senior civil servant has expressed his "deep regret" that the government did not revise building regulations following warnings over the widespread use of combustible cladding in the years before the Grenfell Tower fire.
Bob Ledsome, former deputy director of building regulations, told the inquiry into the 2017 blaze that the issues "should have been gripped better" by the Department of Communities and Local Government.
Yesterday, Ledsome was shown a January 2016 email exchange between Brian Martin, the civil servant responsible for fire safety regulations in buildings, and Nick Jenkins of cladding firm Euroclad.
In the email, which was first shown to the inquiry last year, Jenkins told Martin that there were many high rise buildings in the UK that contained ACM panels "and their numbers are growing", adding: "I do think the situation is of grave concern".
Jenkins also called for a "less ambiguous" statement of fire regulations for external walls following a series of fires caused by ACM, the type of cladding which has been blamed for the rapid spread of flame at Grenfell.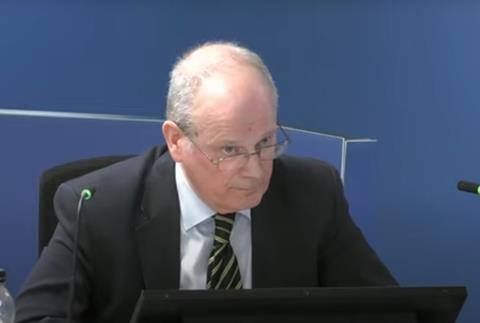 Ledsome, who accepted that the email flagged a "red alert" situation that required "urgent consideration", told counsel to the inquiry Richard Millett QC that he could "not recall" Martin ever sharing this exchange with him.
Millett asked: "Can you think of a reason why Mr Martin would have kept this red−hot information, even assuming it was new to him, to himself?"
Ledsome said it would be "wrong of me to try and speculate".
The inquiry has already heard that Martin had attended a meeting with industry experts in 2014 where he had been warned about an ambiguous passage in building regulations that was being misinterpreted by many construction professionals.
It stated that "filler" materials in a cladding system must meet the tough fire rating of "limited combustibility", but because the passage came under the heading "Insulation materials/products", many in the industry believed it only referred to insulation rather than cladding panels.
At the meeting, Martin had agreed that an explainer of the term "filler" should be drafted and published on the government's website. He is also alleged to have said "there is going to be a major fire" as he left the meeting.
But in his response to Jenkins, Martin said: "I'm not sure the text is really all that ambiguous, given that it must cover all forms [of] construction. People often argue that it isn't clear when they are trying to justify doing something that is clearly wrong."
Jenkins had also asked Martin to set up a meeting with industry experts to discuss the passage on "filler". Martin responded by suggesting Jenkins attend a meeting on cladding and fire safety run by Bath University.
Millett asked Ledsome if he accepted that Jenkins suggestion of a meeting and a clarification of the passage on "filler" was not "acted upon by the department at all at any time before the fire at Grenfell Tower?"
Ledsome replied that it was a "matter of fact" that the department had not issued any further guidance on the passage.
Millett asked: "Are you able to explain why the department didn't take this problem by the scruff of the neck, have a meeting with Nick Jenkins, work out what the real problem was and work out how widespread it was, take the initiative and take matters forward, as opposed to leaving it to Mr Jenkins and industry bodies to talk about?"
"I absolutely accept that it should have been gripped better, and that is a matter of deep regret", Ledsome said.
He added that he assumed it had been expected that the issue would be addressed in an ongoing review of building regulations being carried out by the department.
But the inquiry has heard that this review, which was prompted by an investigation into the 2009 Lakanal fire in Camberwell, London, which killed six people after the building's combustible cladding panels resulted in rapid flame spread, had been seriously delayed.
Hearings have been told that, by the time of the Grenfell fire, almost no progress on the review had been made since it started in 2013, partly because it had been repeatedly expanded and had become bogged down by departmental requirements to cut red tape.
The inquiry continues.