Architect lost close to 200 people last year
Foster & Partners shelled out more than £2m last year in redundancy payments with the number of staff on its books down by close to 200.
The country's biggest architect made the admission in its latest report and accounts which revealed that revenue for the year to April 2017 slipped 5% to £245m while pre-tax profit fell 10% to £25.2m.
According to its results, the average headcount for the business fell from 1,480 to 1,425 – a drop of 55 – but in his chairman's statement founder Norman Foster said the firm now employs 1,300 people, with 80% of its staff based at its London office in Battersea.
According to figures provided by the firm for this year's Top 150 consultants, due to be published by Building next week, the number of staff worldwide fell from 1,500 in 2016 to 1,280 a year later with the majority of job losses taking place at the London office where numbers slipped from 1,262 last year to 1,058.
In a note accompanying its results, the firm said it had racked up £2.1m in restructuring costs which it said was down to "staff reduction costs". A spokesperson said staff figures were on the way up again "with lots of recruiting".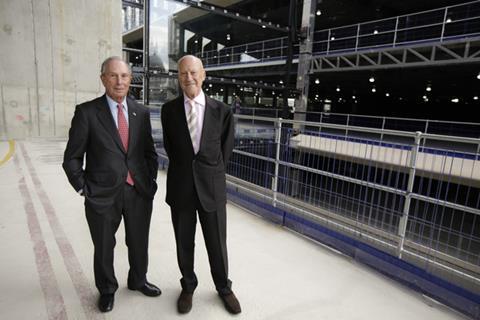 The firm, whose work on the Bloomberg building in the City of London is due to finish later this autumn, said it had made a payment of £6.1m to all of its 145 partners – an average of £42,000 each – and the first since it underwent a restructuring three years ago. The firm added another 11 senior partners at the business including its first female senior partner Katy Harris.
Fosters carries out the majority of its work overseas with the Middle East, North America and Asia accounting for 70% of its revenue – a similar split to last year's 71%. The amount of business it carried out in the UK edged up to £25.5m from last year's £24m.
In his chairman's statement, Foster warned that Brexit is putting London's ability to attract overseas talent at risk. The 82 year old peer (pictured) said: "We thrive and contribute to the wealth of London by virtue of our ability to attract the best graduates from beyond our island nation.
"That is a strength and should be recognised as such. London is a melting pot for international expertise and needs to maintain that edge. It is already under threat."
The salary of the highest paid director, who is not named, was £1.2m, up from last year's £758,000.