Tech giant unlikely to appeal decision
Plans drawn up by Foster + Partners for an Apple store in the heart of Melbourne have been knocked back by the state's heritage authority.
Heritage Victoria has refused the planning application, which would have seen the Yarra Building at Federation Square demolished and replaced by the Apple store.
Federation Square, a precinct opposite the city's famous Flinders Street Station and St Paul's Cathedral, was designed by UK practice Lab Studios and local practice Bates Smart, opening in 2002.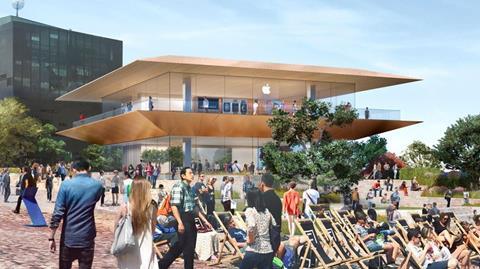 In documents published by Heritage Victoria, the group said the decision to refuse Fosters' plan had been made for several reasons.
It said: "The demolition of the Yarra Building would result in the loss of significant original built form fabric.
"Only in exceptional circumstances would a permit be provided for the demolition of a heritage building."
It also said the controversial proposal would "adversely affect the cultural heritage significance of Federation Square" as it would be "visually dominant" and "encroach into the public square".
According to Australian press reports, Apple is not expected appeal the decision.
The scheme has been mired in controversy since it was announced back in 2017, leading to Fosters + Partners releasing a revised vision of the scheme in July last year.
Permission was refused despite having the backing of Victorian premier Daniel Andrews, who was re-elected last December.
In December, Andrews told Melbourne newspaper The Age: "My position has always been: 'Do we really want this thing to go to Sydney and all the jobs and all the opportunities that come from it?' That's not my view."