ISG, Kier, Laing O'Rourke and Wates to work together to build four new prisons using modern methods of construction
ISG, Kier, Laing O'Rourke and Wates have been appointed to the Ministry of Justice's (MoJ) £1bn New Prisons Programme to build four new adult male prisons across the UK.
The four firms are working on an alliance contract, meaning that they will collaborate on the designs of the new prisons and how to build them.
In line with the government's Construction Playbook, the schemes will include standardised components, platform design for manufacture and assembly and digitisation.
The group said the approach recognises the benefits of tier one contractors working together to drive innovation, maximise social value outcomes and reduce carbon.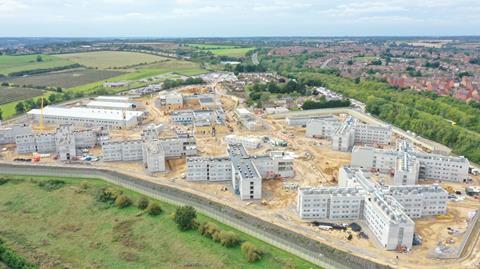 The Alliance 4 New Prisons (A4NP) will initially develop the design for four new prisons – the first of which will be at Full Sutton, in the East Riding of Yorkshire, with a further three locations to be confirmed.
The pre-construction period is expected to conclude early next year, with construction of the first prison at Full Sutton slated to begin in the summer of 2022.
ISG chief operating officer Zoe Price said the use of an alliance contract to develop a repeatable construction solution would unlock "vast potential".
"This is a radical step forward by the MoJ as we prioritise whole life costs, embodied carbon, circular principles and focus on maximising the societal benefit of this significant capital expenditure and reflects an exemplar framework for building back better."
Laing O'Rourke director Martin Staehr said the programme was a "great example of government commitment to efficient procurement, collaboration, and ultimately, better project outcomes."
The appointments follow the use of modern methods of construction on the £253m HMP Five Wells project, a 1,700-place prison being built by Kier which is expected to complete this year.
The approach is also being used on a prison at Glen Parva in Leicestershire, which is being built by Lendlease and is expected to finish in 2023. Costs on that scheme have rocketed from £170m to £286m.
The new prisons are part of the government's promise to spend £4bn on creating 18,000 new prison places.
Last week, the MoJ launched a consultation on plans to build a 1,715-place prison near Market Harborough in Leicestershire.