Chinese construction firm sets target 17-week target for 220-floor skyscraper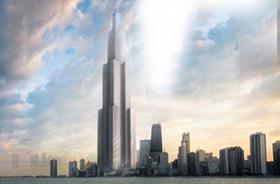 Chinese construction company Broad Sustainable Building is planning to build a 220-floor skyscraper in just four months with a prefabrication method it has developed using bolt-together metal frames.
At a proposed 2,749 ft, the building planned for Hunan province would be the world's tallest – eclipsing Dubai's 2,716ft Burj Khalifa, the current holder of that title.
The Hunan building would have enough apartments to accommodate some 30,400 people and would include a shopping mall and hotels.
Broad attracted global attention at the end of last year, when it released a company video showing a team constructing a 30-storey building in just 15 days using its construction method.
Broad Group founder Zang Yue wants to start the Hunan project in November and complete the project by March, once it is approved by officials in the city of Changsha, the Sunday Times reported.