Councils say planning not the problem as data shows backlog of 400,000 homes already granted permission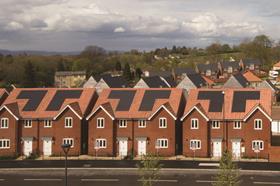 New research has found that some 400,000 homes with planning permission were either unstarted or incomplete at the turn of the year, calling into question the potential for further planning deregulation to spur a construction boom.
A study conducted for the Local Government Association (LGA) published today has revealed that there were some 399,816 unimplemented planning permissions for homes in England and Wales as of 31 December last year, 52% of which had not seen any form of construction work commence.
The LGA said the figure represented a three-and-a-half-year backlog of work for the construction industry and served as evidence that more streamlining of planning legislation would not kickstart growth.
LGA chairman Sir Merrick Cockell said the figures should lay to rest the "myth" that the planning system was to blame for a lack of new homes being built.
His words come after Chancellor George Osborne pledged the government would introduce new legislation to speed up planning decisions and encourage the use of more Green Belt land.
But Sir Merrick said the LGA's latest research conclusively proved that councils were not at fault for the slump in development.
"To get Britain building again we need to address the lack of liquidity in the finance market and tackle the shortage of mortgages for struggling first-time buyers, " he said.
"The planning system has been massively reformed under this government, and it is clear that unlocking frustrated demand, not increasing supply, is now the most urgent problem in the housing market."
Osborne also called for councils to make greater use of land-swapping powers in relation to the Green Belt, allowing previously-protected land to be developed if new pieces of land are brought into the buffer zone.
He cited Cambridge as a centre of good practice to be emulated.
Patsy Dell, Cambridge City Council's head of planning confirmed that the authority had previously taken land out of the Green Belt for development, citing the North West Cambridge project to create a new academic and residential district for the city.
The project was included in its local plan in 2006 and developed as an area action plan with South Cambridgeshire DC in 2008.
However Dell said the authority was only now consulting on whether land taken out of the Green Belt should be replaced.
Responding to Mr Osborne's suggestions, the Royal Town Planning Institute said it was "infeasible" to operate Green Belt policy "one council at a time", apart from where small green belts were concerned.
It added that while the idea of land-swapping was not new, it would be limited in practice "due to limited availability of appropriate and alternate land in the vicinity of many Green Belts".