Pair say talks are now over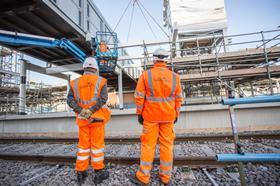 Galliford Try has rejected a £1.1bn bid from Bovis Homes to take over the contractor's housebuilding and regeneration and partnerships businesses.
Bovis is headed up by Greg Fitzgerald, who ran Galliford Try for 12 years before leaving in 2016. He joined Bovis the following year and has since turned around the then ailing housebuilder's fortunes.
In a statement made to the London Stock Exchange this morning, Galliford Try, which is restructuring its business following crippling losses on the Aberdeen bypass and Queensferry Crossing schemes in Scotland, said it had rejected the offer "as it believes it does not fully value the Linden Homes and Partnerships & Regeneration divisions".
The contractor also said the merger would not be in the best interest of all its shareholders.
Galliford Try said: "The Board of Galliford Try notes the recent media speculation and confirms that it received a preliminary proposal from Bovis Homes Group to acquire Galliford Try's Linden Homes and Partnerships & Regeneration divisions in exchange for new Bovis Homes shares.
"The Bovis Homes Proposal envisaged Galliford Try remaining an independent UK-listed group focussed on construction and Galliford Try shareholders receiving new Bovis Homes shares pro rata to their current Galliford Try shareholdings."
In its own stock exchange announcement Bovis confirmed that it had made the offer and that the parties were no longer in talks.
It said: "Galliford Try rejected the Bovis Homes Proposal on 24 May 2019 as Galliford Try did not believe that the proposal fully reflected the value of the housing businesses and the need to ensure that the remaining Galliford Try UK listed construction focused group had a viable capital structure.
"Bovis Homes and Galliford Try are no longer in discussions."
Tony Williams, an analyst with Building Value, said the Bovis move was "serendipitous", given Fitzgerald's career history, and he believed it would come back with a better offer.
"They could arguably go for the lot and then sell off the construction arm. I don't think they'll get a deal without doing that."
Bovis revealed details of the bid, which it put to Galliford Try at the start of May.
It said: "Bovis Homes submitted a revised proposal on 8 May 2019 regarding the potential combination of Bovis Homes and Galliford Try's Linden Homes and Partnerships & Regeneration businesses for consideration of £950m together with the assumption of Galliford Try's 10-year debt private placement of £100m, with the consideration to be satisfied via the issuance of new Bovis Homes shares directly to Galliford Try shareholders.
"The potential combination relates solely to a combination with the Housing Businesses and does not relate to a merger with Galliford Try itself. The potential combination envisages Galliford Try remaining a UK listed construction focused group owned entirely by Galliford Try shareholders."
Earlier this month, Galliford Try has said it will reduce the amount of work its construction business does by nearly a quarter as it focuses on three key areas and retreats from other markets. It is shedding around one tenth of its 3,500 staff.
In its last set of full year results, Linden Homes posted revenue of £947m on operating profit up 8% to £184.4m. The partnerships and regeneration arm had revenue of £475m with operating profit up 58% to £23.6m.