More than 50 IT and payroll staff began working from home on Monday
Galliford Try has told its critical back-office staff in IT and payroll to work from home in an attempt to avoid catching coronavirus.
More than 50 staff based at an office in Hinckley, Leicestershire, have been working from home since the start of the week.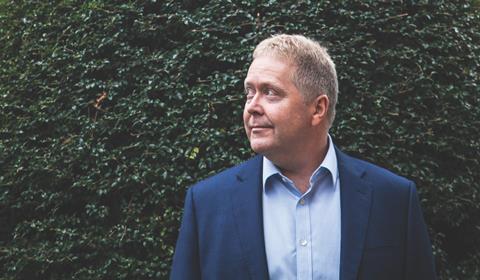 Chief executive Bill Hocking said: "We need to pay our supply chain and people. It seems daft to have them all working in the same office while this [coronavirus] is happening. We've hopefully reduced significantly the risk in terms of people going down with the virus."
The firm, which has also stopped non-essential training, said it is also poring over existing contracts to find out how much in extra costs it might be liable for as a result of the outbreak.
Hocking (pictured) said the issue of who picks up the tab varies from contract to contract but he added that on contracts it was about to sign, the firm was insisting that force majeure clauses be inserted to cover coronavirus.
"Coronavirus is a force majeure event. I'm sure we'll have robust discussions [with clients] but if a client says no, we are going to have to make a decision. The thing is to remain calm and treat each other fairly."
Hocking was speaking as Galliford Try unveiled its first set of results after completing the sale of its housebuilding and regeneration arms to Bovis at the start of the year. This included receiving £300m in cash and a £100m debt swap.
The firm said the deal will give it an average month end cash balance of more than £100m in the second half of its financial year which closes at the end of June.
"Clients are demanding more robust balance sheets and we are a well-capitalised business now with no pension liabilities," Hocking added.
The firm said it is keeping the Galliford Try name and had finished a job cutting programme announced last year which saw 300 jobs go over the summer, bringing staff numbers down to 3,100.
Hocking, who took over from Graham Prothero, who stepped down to become chief operating officer of Bovis Homes, said the firm was targeting full year revenue of between £1.2bn and £1.5bn and ruled out acquisitions.
He added: "We're sticking to our knitting. There'll be 18 months of settling into our new shape."
During the period, Galliford Try was handed £32m as part of a settlement over the scheme to build a new road in Aberdeen for Transport Scotland.
The firm carries out water and building work north of the border but has pulled out of transport infrastructure jobs. "Mainly because of the way it was procured. It was very old-fashioned and adversarial," Hocking said.
Galliford Try said statutory revenue fell 8% to £668m in the six months to December 2019, returning to the black with a pre-tax profit of £16.6m from a £24.7m loss last time.
Its continuing operations saw revenue fall 13% to £636m with the firm slumping into the red with a £5.6m pre-tax loss from a £2.2m profit last time.