Theatr Bryn Terfel in Bangor scheme was inherited with acquisition of Miller Construction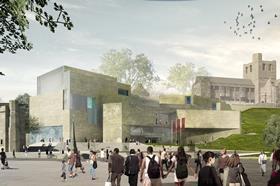 A problem theatre project in Bangor, Wales, that Galliford Try inherited with the acquisition of Miller Construction, still has no opening date despite being eight months behind schedule.
The Theatr Bryn Terfel - the centrepiece of Bangor's planned £49m Pontio arts complex - was originally meant to complete last August in time to stage its first production in September, but client Bangor University has confirmed Galliford Try is still working to complete the building and there is no confirmed opening date.
Miller Group sold its construction arm Miller Construction and its contracts - including the Theatre Bryn Terfel job - to Galliford Try for £16.6m last July.
Galliford Try is building the whole of the Pontio arts complex, which also incorporates lecture theatres and a students' union for Bangor University.
The wider Pontio project was intended to complete by November 2014 and is also not complete.
A spokesperson for Bangor University said there was no definite opening date. He said: "We are still working with Galliford Try in order that they may complete the building to a high standard of quality as quickly as possible.
"It is important to stress that there has been a substantial amount of dialogue with the company throughout the project, and much of that dialogue focussed on delivering a high quality building. Discussions have also been held at all levels within Galliford Try, and our Estates Department are monitoring quality on a regular basis.
"Galliford Try have assured us that they will complete the building to a high standard of finish, and we look forward to seeing the building open."
Galliford Try declined to comment on a revised opening date, but said in a statement: "As with any project of the level of complexity that the Pontio building represents, the construction team has faced a number of challenges throughout the build programme.
"None of these issues has been out of the ordinary experience of a construction process and all of these challenges are being met, ensuring that the high quality finish of the final building is not compromised.
"We remain committed to working collaboratively with the University of Bangor and all the stakeholders involved to reach a successful conclusion to this prestigious project as soon as is practically possible."