Contracting chief says firm hopes to avoid legal action over outstanding claims
Galliford Try has drawn a line under its woes with two cost-laden jobs in Scotland, according to the contractor's head of construction Bill Hocking.
Reporting its annual numbers yesterday – which saw the firm take a further £51m hit over the two jobs after last year's £45m – Galliford Try said it had been told to expect £100m from its claims against client Transport Scotland over the Aberdeen bypass road, less than half of what it was hoping for.
Hocking said the firm wanted to avoid litigation as it sought to claw back money over the delayed Aberdeen job. It posted a £26m writedown on the scheme this year.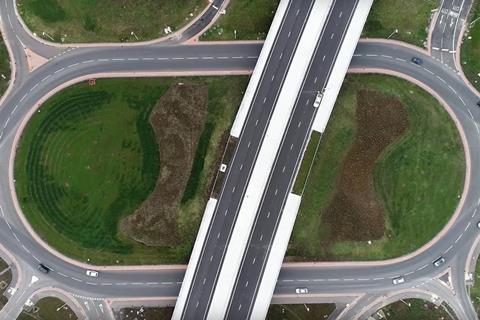 And he dismissed the suggestion that the plan to sell the group's profitable housing and partnerships operations was a consequence of the costly Scottish jobs, which were hit by extensive periods of bad weather, notably in the north east of the country.
He also argued the construction operation was "in good shape whether the [housing] sale goes through or not.
"The deal with Bovis didn't go through earlier this year because the construction operation was under-capitalised. But with the proposed £300m cash payment now being tabled as part of the sale we are in a good position."
There were no plans to change the name of Galliford Try, he said, despite the 'Try' coming from Try Group, the housebuilding business with which the then-Galliford Group merged in 2000.
Hocking said the mission to overhaul the construction business had been "largely completed", albeit with a few legacy issues and the loss of 300 jobs. Of these, 280 have already gone, while a further 20 staff are to be made redundant shortly.
Some 50 employees had been "re-homed" in other parts of the business, Hocking added, while the cost of the redundancies was put at £5m.
"The dust is still settling [on the restructuring] and there are some jobs to finish off, but we're in a good place," he said. "We're on track a 1.1% margin and while that's not good enough it's not a bad position to be in in this industry."
On the vexed subject of Brexit Hocking said he was sceptical if it happened at all, but added: "We're looking at different strategies. We're selectively talking to clients, and in one instance materials have been brought in early and warehoused.
"We've also put some Brexit-related clauses into some contracts. There are plenty of ways to skin a cat," he said.
Hocking said the construction arm had 90% of next year's revenue in hand, and 54% for the year after that.
Yesterday Galliford Try reported turnover of £2.9bn for the year to the end of June 2019, down from £3.1bn in 2018, and pre-exceptional pre-tax profit of £156m, down 17%.