Gardiner & Theobold adds QS position to existing PM role on restoration project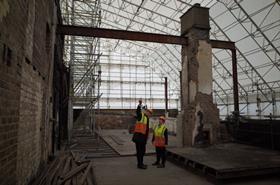 Gardiner & Theobold has won the QS contract on the restoration of the Glasgow School of Art's (GSA) fire-ravaged Mackintosh building.
The consultancy had already been appointed project manager on the restoration, but has now beaten several major players to the separate QS role, including Capita, Building understands. Local practice Page/Park were appointed architect back in April.
A spokesperson for GSA said that G&T submitted a commercially competitive tender during the "extremely competitive process".
GSA added that G&T also put forward a high quality and senior team, which includes a conservation accredited quantity surveyor who they believe will be "very beneficial" to the restoration project.
The Mackintosh building is regarded as one of the finest examples of art nouveau in the world and the masterpiece of Scottish architect Charles Rennie Mackintosh. In May last year it suffered severe damage in a fire, with the library and around 10% of the structure completely destroyed.
The appointment of a contractor still some way off, but GSA is aiming to complete the restoration of both the Mackintosh Building and the McLennan Galleries in time for the 2017/18 academic year.