Architects Marks Barfield welcome damning Hodge report into the London project
Julia Barfield, co-founder of Marks Barfield, has spoken of her "relief" after a "shocking" report by Labour MP Margaret Hodge into the Garden Bridge panned the project's rushed design contest, which was won by Heatherwick Studio.
London Eye-designers Marks Barfield, along with Wilkinson Eyre, bid in a Transport for London-run (TfL) competition to design a pedestrian bridge across the Thames between Temple station and the South Bank - but Hodge's report, published on Friday, revealed they had a mere 12 days to submit proposals in February 2013 after the invitation to tender had gone out.
Unbeknown to Marks Barfield and Wilkinson Eyre, Heatherwick Studio had been working on the project for five months, creating what Hodge says was an "unfair playing field".
Barfield (pictured) told Building: "It's a relief to have the light shine on the situation. The pretence of the procurement process has been blown wide open.
"It's shocking that it's gone on for so long. It's unacceptable that at a time when parks all over London are strapped for cash and spending has been cut to the bone, there has been this wanton use of public money."
Hodge's report argued the Garden Bridge was "poor value for money" and recommended City Hall cancel it and stomach the estimated £46.4m costs, rather than push ahead with an uncertain scheme that's estimated budget has spiralled north of £200m.
Marks Barfield, one of the architect firms invited to tender for the Garden Bridge design services contract, had initially been reluctant to enter the process, according to Hodge's report.
In her report Hodge said: "Julia Barfield and David Marks told me they had been reluctant to participate in the competition for a number of reasons. First they would normally enter with an engineer in the team designing a bridge. They were told that that was not necessary as this would follow in a future stage.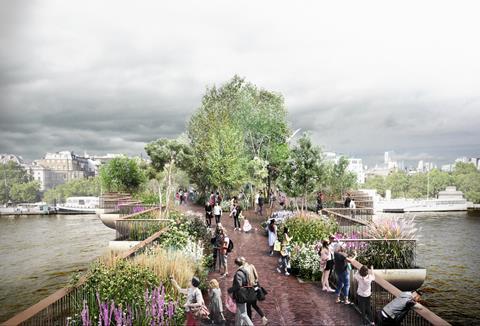 "Second, they were concerned about the very short time they were given to submit a tender. By comparison, they had taken a year to develop proposals for a bridge from Nine Elms to Pimlico, and thought the six-week time limit on the contract was seriously short for a feasibility study."
It took persistent persuading from TfL director Robert di Cani to get them to take part in the competition, Hodge's report said.
Marks Barfield did not know of Heatherwick's design for the bridge, the report said, nor did Wilkinson Eyre. The practice of sharing an existing design with other competitors as a 'reference design' did not happen in the case of the Garden Bridge.
Both Marks Barfield and Wilkinson Eyre submitted bids against a written specification "so could not compete with Heatherwick Studio's specific design proposal. Clearly the tenders should have been evaluated against the specification," the Hodge report said.
Despite Marks Barfield and Wilkinson Eyre's background in bridge design, Heatherwick scored 4 on 'relevant design experience', versus the former pair's 2.5 and 3 on the same criterion. Hodge said she felt this reflected "more the failure of the specification to be clear or transparent about the brief, rather than the capability of the two experienced practices".
Also, Heatherwick's total estimate for its day rate came in at £173,000, versus Mark Barfield's bid of £15,125 and Wilkinson Eyre's of £49,939. Following a conversation between di Cani and Heatherwick Studio, the latter decided to cut its fee due to what it called its 'ongoing support and hopes for the project'. Hodge's report said the discussion leading up to this revision "contravened Transport for London standard procecdures".
Hodge's report also noted that neither Marks Barfield or Wilkinson Eyre had challenged or commented publicly on what she labelled "the unfair procurement process". This, the report went on, may in part because "they might have been unwilling to criticise one of their big clients for whom they wish to continue working".
Confidentiality agreements may have also played a part, but following a reference by the then-mayor Boris Johnson to a question put to him at the GLA, Marks Barfield told Hodge: "'Now that the facts have begun to slowly emerge it is clear we were just there to make up the numbers and the outcome of the so-called competition had, in reality, already been determined. We feel deeply embarrassed to have been used in this way by a publicly-accountable body who should know better.'
A TfL spokesperson said: "We welcome Dame Margaret Hodge's independent review of the Garden Bridge project. We will review it in detail and ensure that the recommendations relevant to TfL are addressed."
Heatherwick Studio has been contacted for comment.
Marks Barfield's full statement on the Garden Bridge
We couldn't agree more with Dame Margaret Hodge's unequivocal review of the Garden Bridge Project. We have kept our counsel until now, but welcomed the invitation to meet with Dame Margaret Hodge when requested to do so last month.
TfL had an obligation to obtain value for money for a concept the former mayor, Boris Johnson, was promoting. They chose to do this by contriving a tender process that was inappropriate, unfair, and biased.
Now that the facts are out in the open, we want to make it clear, firstly, that had Marks Barfield been aware of Heatherwick Studios' involvement and original idea, we would certainly not have submitted a tender. There is still honour and respect between architects and designers.
Secondly, there are ways to ensure value for money without contriving a sham competition and wasting the time and effort of other design firms. If a tendering process is required it should be fair and transparent. Architects and designers should compete on an even platform, or a mechanism needs to be put in place to allow projects to proceed with the originators of those projects without the farce of conducting an improper tender process.
This competition didn't smell right from the start. Marks Barfield would not normally submit a bridge tender without an engineer as an integral part of the team, nor respond to a tender invitation with such a short return period, and only did so following a direct phone call and the persistence of TfL.
It is clear that we were just there to make up the numbers and the outcome of this tender had in reality already been pre-determined. We feel deeply embarrassed to have been used in this way by a publicly accountable body who should, frankly, know better.
We are not seeking, nor have we sought, nor will we accept any compensation from TfL or any other body. We genuinely hope that this is an isolated case and that lessons will be learned, although it is difficult to see how if TfL continues to be in denial.
It is important now that robust moves are made to restore confidence in TfL as an organisation and we are grateful for Mayor Khan's initiative in commissioning this report. We hope that his appointment of a new TfL Board and introduction of governance procedures will deliver public accountability.